Unique Loom is launching its new custom rug designs to the Dallas Design community

FORT MILL, SC – (September 2023) – International Rug brand, Unique Loom is launching its Custom Rug Design Program during Dallas Design Week at Dallas Market Center, by throwing a Tacos & Tequila Design Week design community event on September 20, at 3 p.m.. The event is hosted by Celebrity designer and television host Jennifer Farrell and is sponsored by Tequila Comisario who will offer a special tasting from three of their world-famous tequilas.
Theresa O'Dea, VP of Business Development, and Design, at Dallas Market Center commented, "This custom program is such a tremendous addition to our design resources. Designers and their clients are seeking one-of-a-kind pieces, so we are thrilled to have this service available at Unique Loom. Their company is already respected for their quality collections and great customer service so we know the design community will be eager to learn more. We'll see everyone at their Design Week event and raise a glass of tequila to celebrate the debut of this innovative program."
Unique Loom's custom design program

Unique Loom's new Custom Design Program allows their trade clients to be more creative with their rug designs and to deliver flexible custom options they haven't been able to offer before. The program is available in a wide range of indoor machine woven designs, as well as outdoor and natural fiber rugs with over 60 collections that meet contemporary, transitional, or traditional design styles and each rug can be customized for size, with a short 9-12 week lead time. This new program also includes the added benefit of standard shipping and freight costs that are the same as their other designs. Buyers are encouraged to book an appointment during Dallas Design Week (Sept 19-21, 2023) to learn more and to get a personalized tour.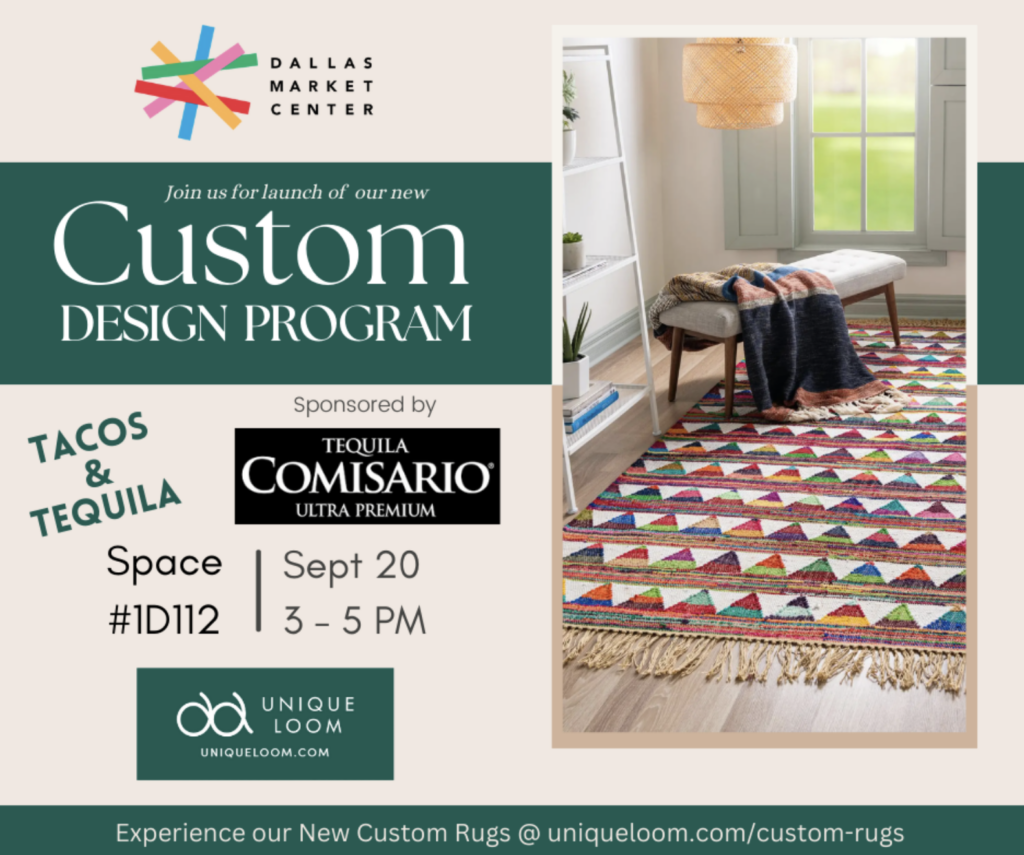 "Whether your designs call for something extraordinary and you are looking to customize the size of a single runner or an entire room, Unique Loom's new Custom Design Program is helping our customers realize their ultimate rug design vision. Customers can be also assured that working with our team of experienced rug specialists, your custom rug journey is absolutely seamless as our team is here to support our trade clients' entire buying experience," Stephanie Adams, Sales & Marketing at Unique Loom.
Tacos & tequila at Unique Loom

To celebrate the launch of the new Custom Design Program in Dallas, Unique Loom is throwing a Tacos & Tequila Design Week design community event hosted by Celebrity designer and television host Jennifer Farrell, whose expertise in creating acclaimed interiors is applauded as a tastemaker and style leader. Founder of Jennifer Farrell Designs, Jennifer has established herself as a premier influential voice in design and her work embodies a unique combination of A-list design expertise and celebrity-factor recognizability that is unmatched in the industry.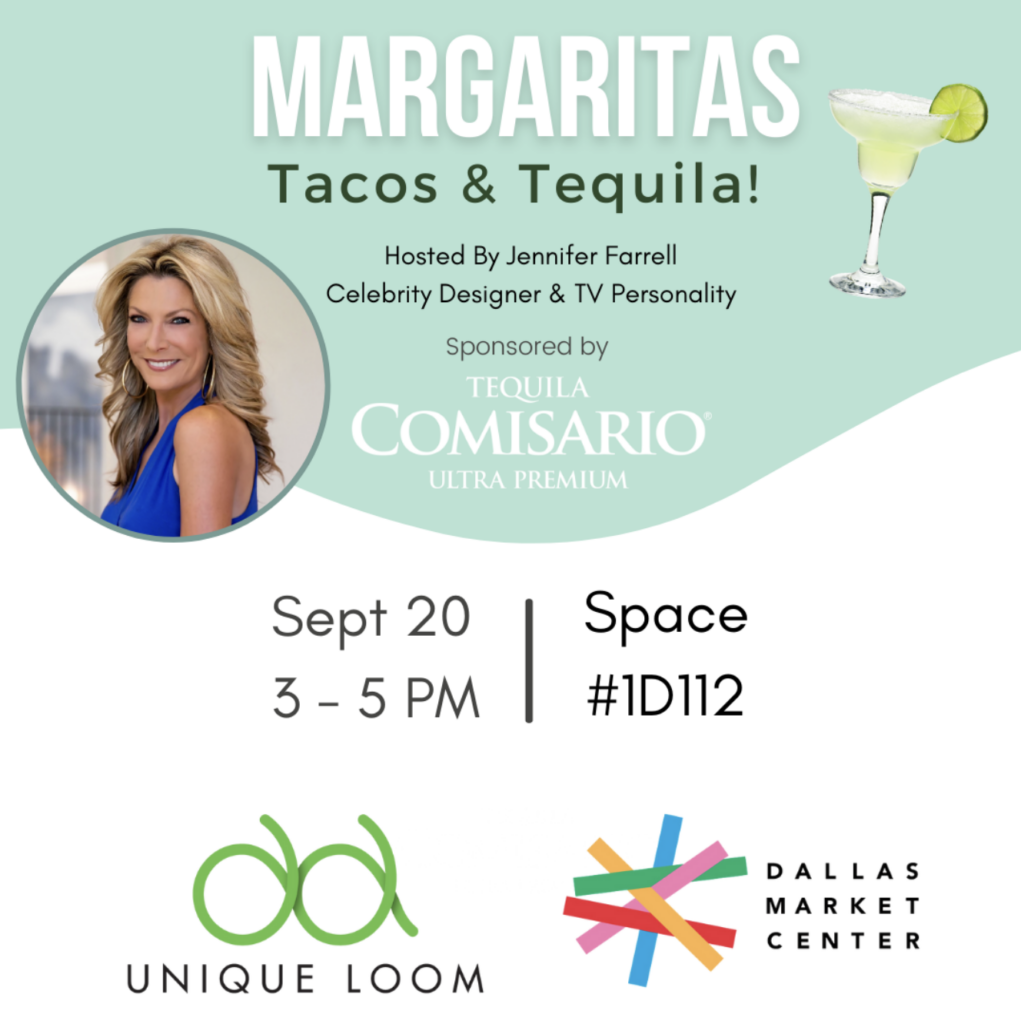 Jennifer Farrell, commented, "I'm thrilled to help host Unique Loom's Dallas Design Week event. I'm so excited by their new Custom Design Program for my luxury design projects; this new launch is truly one to be celebrated, and I can't wait to raise a glass of tequila with our design community!"

Unique Loom's Tacos & Tequila Design Week Event on Wednesday, Sept 20, 2023, from 3 – 5 PM in showroom #1D112 will feature a special tasting sponsored by Tequila Comisario – The World's Best Tequila. The special tasting will highlight three of their world-famous tequilas including Blanco, Reposado, and Anejo. Event hospitality will pair a variety of delicious tacos, and tequila-infused cocktails while guests enjoy live music played by DJ Dawn. Unique Loom's sales and marketing teams will also be on hand during Dallas Design Week (Sept 19-21, 2023) to offer personalized tours of their showroom and new summer intros. RSVP to attend on Eventbrite.

Unique Loom's Dallas Showroom Manager Kendra Wagner, shared, "We are thrilled to be working with Jennifer and Tequila Comisario on our Tacos & Tequila Dallas Design Week event. I can't wait to welcome everyone to our showroom and to offer our design community a tour of our beautiful space."
Unique Loom's Dallas showroom #1D112, in the Interior Home & Design Center, is also home to their private collection. This exquisite collection of never-before-shared rugs includes designs and patterns of rugs ranging from intricate geometrics, and floral flourishes, to universal global motifs with brilliant colors, and rich textures.

"We are thrilled to be showcasing never before shown, rare and one-of-a-kind rugs, to our Dallas Design Community, with designs that are absolutely unique and aesthetically gorgeous," shared Adeleh Nassri, Business Development for Unique Loom, "With 30 + styles in our private collection that features the highest quality hand-woven rugs in oversized designs that range from 16-20' x 20-24' feet. Ensuring our customers will discover something completely unique that will elevate their design projects."

Adeleh Nassri also shared that Unique Loom is growing and looking for new talented sales and marketing candidates to join their team. For a list of Unique Loom's available opportunities visit their website's career page to learn more and to submit your resume.

Unique Loom offers something to elevate any room, or style of decor. With decades of expertise, their innovative manufacturing techniques offer worldwide distribution, which brings their unique brand and art of rug making to the next level. Providing its trade clientele with an endless array of rug collections inspired by art and the traditions of rug-weaving and specializing in hand-made, hand-knotted, and hand-woven rugs, as well as one-of-a-kind, and antique-style rugs, in addition to offering more than 80,000 machine woven rugs. With a commitment to offering styles that inspire their customers to turn their houses into homes, with the largest widest variety of rug styles, textures, and materials, and with sizes to suit every design, project, and budget.

Antoine Smith, Inventory & Showroom Manager, commented "From opening your trade account, ordering rug samples to selecting your favorite rug style, to ordering and delivery. We pride ourselves in helping our customers find the perfect rug selection. We offer the largest online catalog of one-of-a-kind rugs and the largest variety of machine-woven collections in the industry. Whether our clients are sourcing online, in-person at one of our trade showrooms, or working with our friendly sales team – our customers will always be guaranteed the rug designs they fall in love with are expedited with precision and care."

About Unique Loom
Unique Loom is committed to offering affordable styles and a variety of quality collections in addition to the largest online catalog of one-of-a-kind rugs to inspire trade clients and today's consumers, who expect more online and in-store. We continuously look to the future by developing innovative new products that focus on sustainability and stay ahead of the curve with respect to trends. With over 50 years of experience in the Rug Industry and over 15 years of manufacturing experience, Unique Loom is the fastest-growing brand in the Rug Industry providing the best value and selection of contemporary designs at an affordable price. With over 2 million square feet of warehouse space, today our catalog includes over 70,000 one-of-a-kind rugs, and over 20,000 machine-woven styles, including licensed brands Jill Zarin™, Sabrina Soto™, and Marilyn Monroe™.
Unique Loom is headquartered in Fort Mill, SC, with to-the-trade showrooms at: ● High Point Market Square #240 ● Las Vegas Market, Building B, Suite #B424 ● Dallas Market, Interior Home & Design Building, Showroom #1D112 ● For more information visit www.uniqueloom.com.
Unique Loom Summer Markets Introductions:
Gabbeh: Soft, subtle, and soothing, that's just some of the words that describe the welcoming aesthetic of the Gabbeh Collection. Filled with muted, neutral colors with blues, creams, and tans, this family of rugs provides a touch of primitive art with the windswept feel of coastal colors.
Choose from multiple designs or pick one of each for multi-room placement that will instantly create a cohesive, polished look to any home. Each abstract and minimalist design, with subdued icons and layered coloring, is understated yet homey. Machine-made with a polyester pile and jute backing, each rug in the Gabbeh Collection is constructed to be shed-free and stain-resistant. That makes it both kid and pet-friendly, making it the perfect way to complement a bedroom, living room, or playroom. Bring home the Gabbeh Collection to turn any space into a relaxing and tranquil retreat.
Milano: Make a statement without saying a word. The Milano Collection delivers daring designs that look straight off an Italian fashion runway. Dramatic dual-toned black and white abstract and geometric patterns dominate this eclectic collection that's perfect for the adventurous decorator who craves floor coloring that leaves a lasting impression.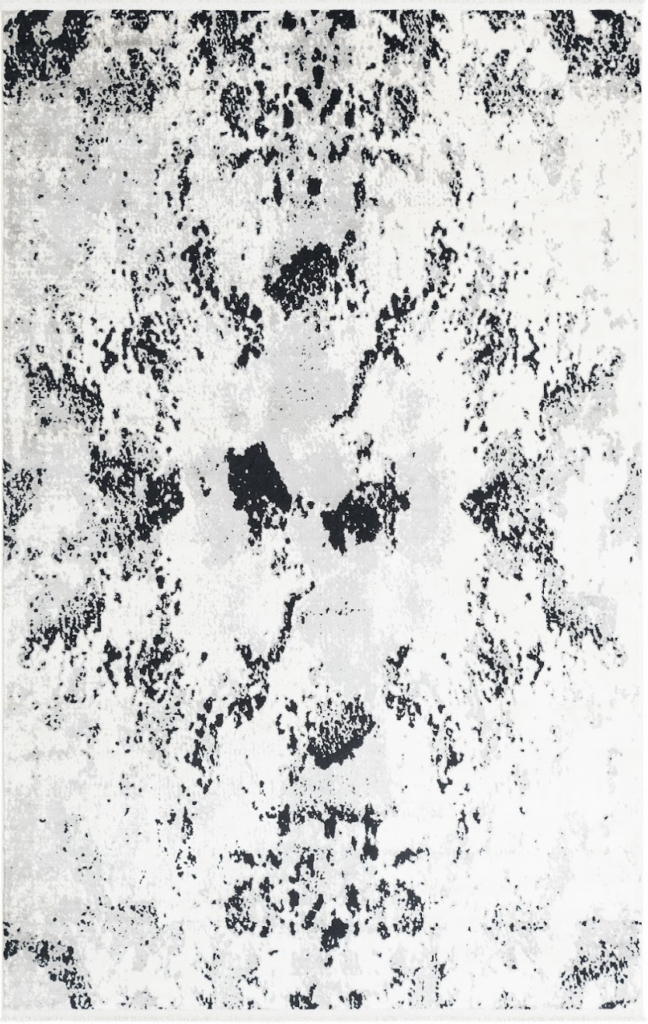 Get lost in the mesmerizing lines, splatter patterns, and mind-altering angles of these innovative and cutting-edge designs. Instantly give your home a modern update with multi-room placement easily thanks to the cohesive monochromatic look of these machine-made rugs. Featuring a combination of polyester and cotton pile with a cotton backing, each rug in this collection features a small fringe which creates a soft finishing touch to these highly modern pieces. With a shed-free and stain-resistant material, these high-end looks come in a worry-free construction.
Laguna: Tranquility awaits with the effortlessly elegant designs of the Laguna Collection. You can enjoy the best of both worlds with multiple designs and two distinct color patterns, one with light taupe and cream muted pairings and the other with dark color options in rich navy and teal. Mix and match or opt for a stylish monochromatic look.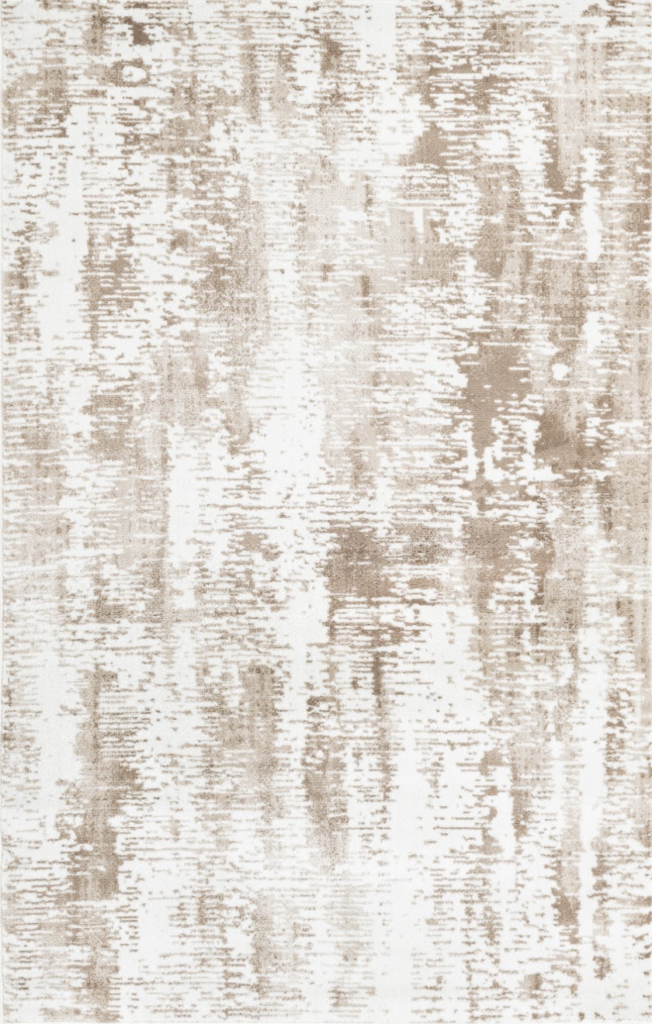 Either way multi-room placement is a breeze with a variety of complementary designs including abstract and geometric patterns, marble designs, and a classic solid border motif. Each rug in the Laguna Collection feels luxurious thanks to its medium pile construction. The Laguna Collection sounds like a day at the beach for a reason, its construction is manufactured to be shed-free and stain-resistant, making it low maintenance and user-friendly no matter what.