Demarc designs for work-life boundaries


"Even if you WFH, you don't have to live at the office." Demarc's HQ system was designed with work life balance in mind.
A quick google asking "Is work from home dead?" returns mixed results. Jury is still out, though data is showing us hybrid/flexibility will likely be the name of the game going forward. It's no question that the COVID-19 pandemic's widespread shift to remote work, showcased its feasibility on a large scale. Companies and employees experienced the benefits of flexibility without commute times, and often increased their productivity. It may not be universally over, but its prevalence and acceptance will depend on a nuanced interplay of organizational culture, technological capabilities, and employee preferences. Many have adopted it as their new, preferred normal and there is no going back. Let's focus on them today…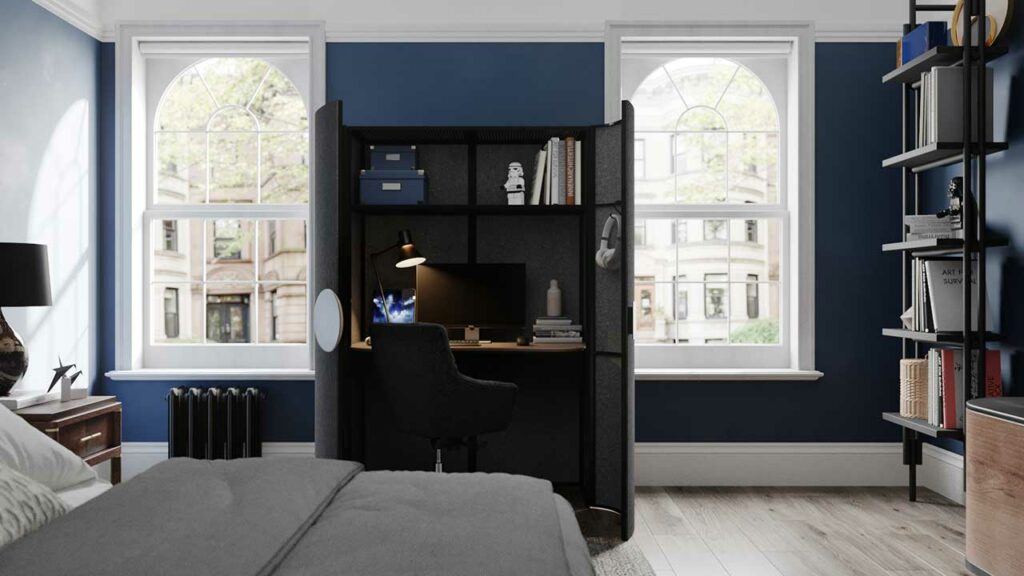 The question we should be asking is who are these people who are never going back to the office and what do they want out of their at-home work spaces going forward? The answer is one that predates the pandemic: greater separation between their work and living spaces. With the creation of their HQ system, Demarc set out to design a home office system that 'demarcates' the office space when opened up and can be closed up to create physical and mental separation from the living space when the work day is over. In a nuanced conversation between Demarc founder, Piper Skillman and DNN Editor in Chief Courtney Porter, they unpack why there is still optimism in the home office category and how Demarc is using design to solve the existential concern with overwork. Click play on the video below to watch the discussion:
Demarc's sustainability story
The frame of HQ is constructed from steel with a powder-coated finish that not only guarantees consistency but also eliminates the generation of harmful solvents or airborne pollutants, setting it apart from traditional solvent-based wet paint. HQ's exterior is crafted from recycled PET and polyester fibers derived from collected and processed plastic bottles. The resulting PET felt sheets, created through compression and melting, boast both ecological sustainability and impressive acoustical properties. The grooves cut into the sheets seamlessly integrate with the steel frame, offering not only durability but also effective sound dampening, creating a conducive workspace with reduced external noise and minimal reverberation within HQ.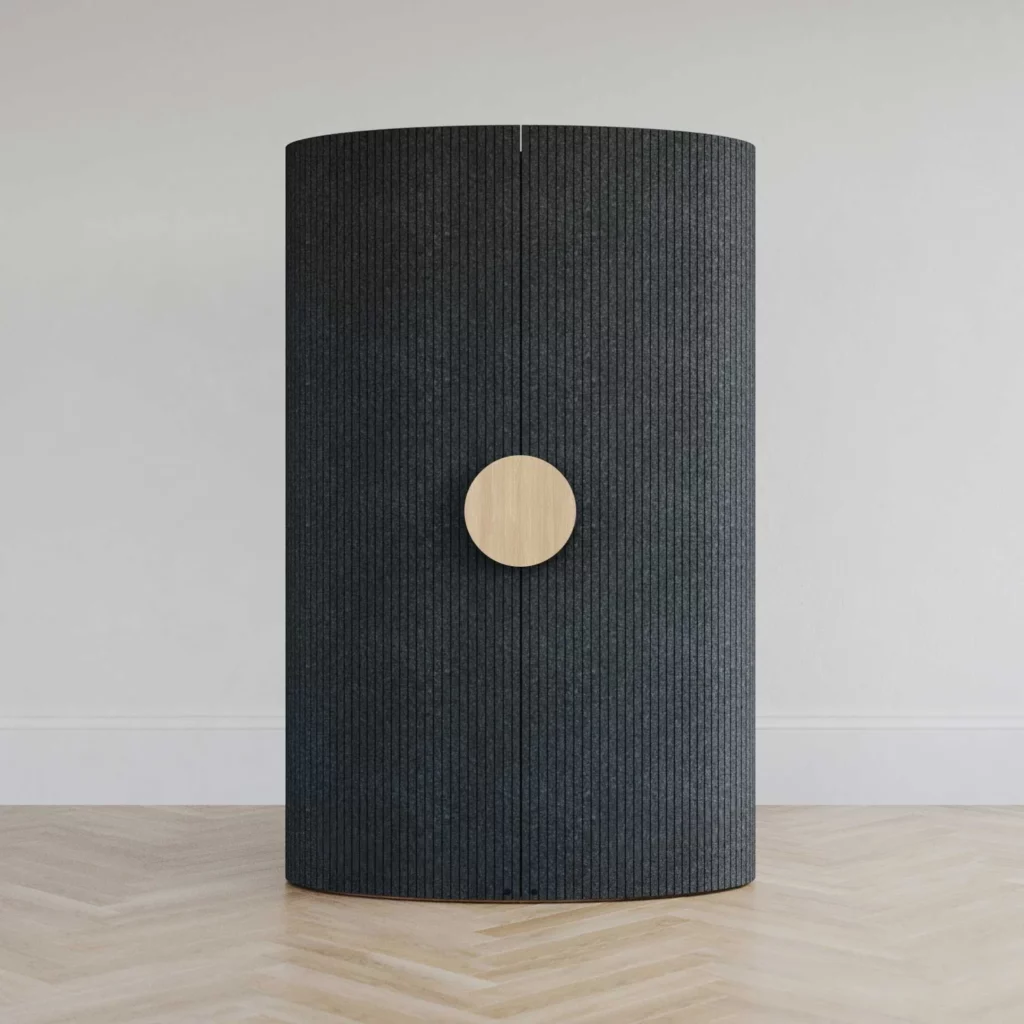 Turning attention to the interior, HQ's worksurface combines real wood with recycled wood products, finished in a selection of striking veneers. This innovative approach not only avoids the aging effects associated with solid wood, such as splitting or warping but also facilitates easy cleaning. Beyond the material choices, Demarc emphasizes the concept of sustainability by prioritizing durability and high quality in the design and detailing of their products, steering clear of the "fast furniture" trend. This dedication ensures that Demarc products, including HQ, endure for years within the home environment.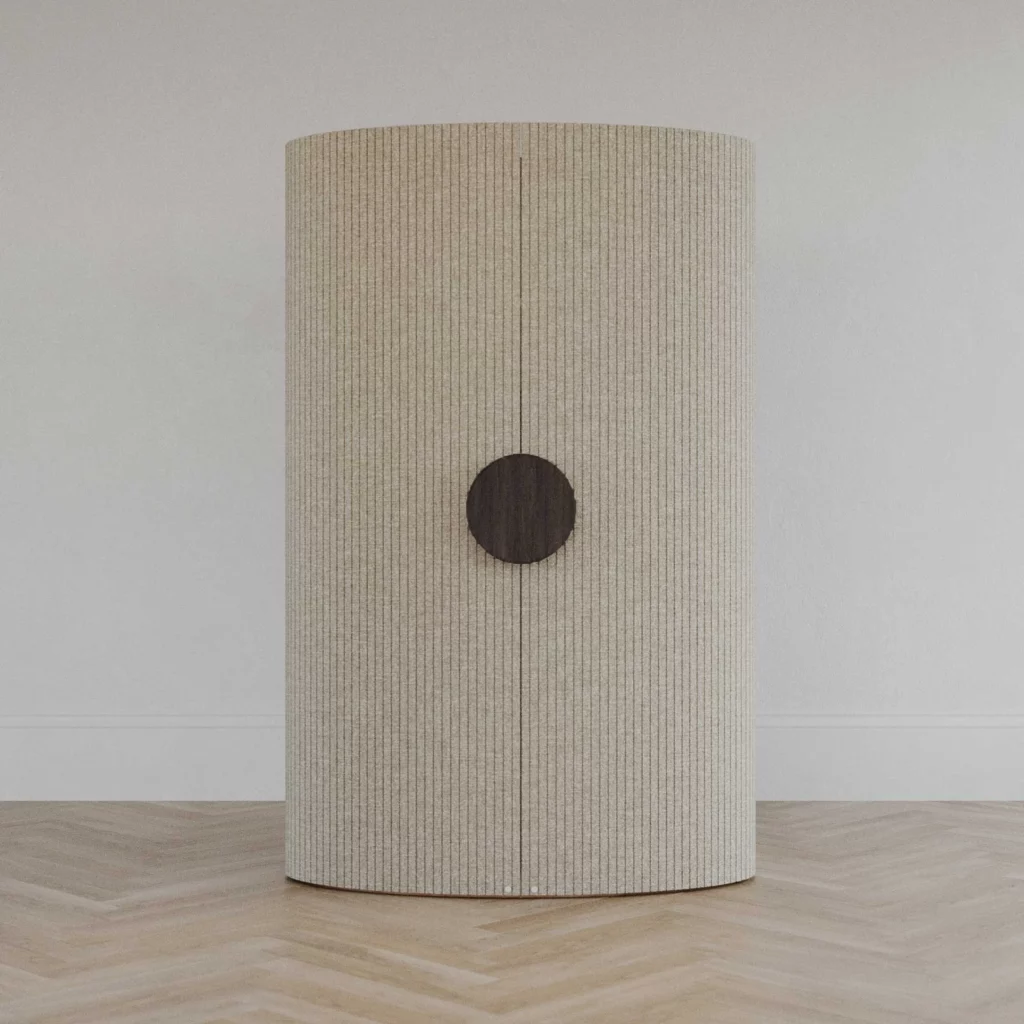 More about HQ by Demarc
HQ by Demarc, is a groundbreaking work-from-home solution designed specifically for the design-conscious consumer in one of the most space-challenged markets in the country: New York City. The HQ is a standalone, self-contained office unit that offers full function without compromising on space or aesthetics. Created by New Yorkers for New Yorkers, the HQ is the brainchild of Piper Skillman, founder of Chapter Interiors, and her longtime colleague, Emma Robson. With extensive experience collaborating in corporate office projects and independently on residential interiors, they named and founded Demarc with the aim of demarcating space to establish physical boundaries between work and personal life in the home.