Design Day gives designers much-needed time and space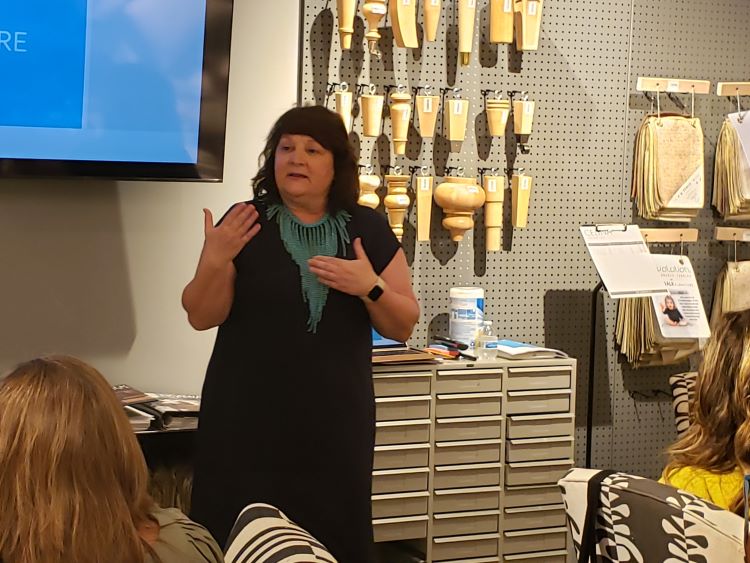 Since the start of the Covid-19 pandemic, we've learned that a lot of what we thought could only be done in-person can be done in other ways. Face-to-face meetings have become video calls. When markets briefly shuttered or scaled back at the start of the pandemic, home furnishings manufacturers transitioned to virtual showroom tours. They sent out more fabric swatches and finish samples.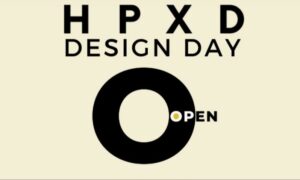 Those adjustments have worked so well, they've become normal parts of doing business in the industry.
But they can't replace tush time — that opportunity to sit on sofas and sectionals, chairs and chaises to get a feel for how they, well, feel. Ample tush time in High Point showrooms is part of what draws interior designers to Design Days, which are sponsored and hosted by High Point x Design. You might recall that HPxD itself was born in the earliest days of the pandemic with a goal, as its website says, of "reimagining High Point as a year-round hub of design and creativity."
I think of tush time as shorthand for all that Design Days offer buyers: time to shop, time to sift through piles of fabrics or rugs, time to meet face-to-face with manufacturers, time to network, time to learn, all outside the spring-fall market cycle.
The Design Day vibe is relaxed, convivial, but productive. During the most recent event on Aug. 3, more than 30 showrooms were open, with several offering sales and special activities. Educational and networking events punctuated the day, first a behind-the-scenes look at Woodbridge Furniture's product development process, then an update on performance fabrics at Norwalk and ending with a social hour at Baker|McGuire (the newest HPxD member) where attendees got tips on making the most of Instagram. Those attending seemed to relish the one-on-one time with the manufacturers who were sharing their expertise, and extended the educational sessions with plenty of questions.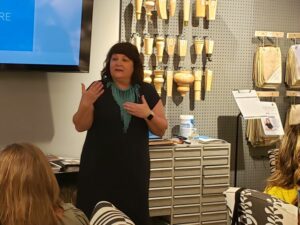 (Those who attended the talk at Norwalk enjoyed a lunch of seafood, salads and brownies, all made by multitasking Mary Devincenzo, who also gave the talk on performance fabrics. When she's not preparing delicious food, she manages the Norwalk showrooms and handles designer accounts.)
HPxD Managing Director Jane Dagmi told me afterward that turnout for the day was strong. "I spoke with three of our members about Design Day traffic," Dagmi said. "Lorraine Nicholson at Feizy called it 'brisk,' Frank Leyon from Oly said it was the best Design Day yet, and the Antique & Design Center said they had between 20-30 people come through."
Buyers came from across North Carolina, but also from Atlanta and Richmond, Virginia. "One of the biggest thrills, and often a surprise, is seeing who shows up to Design Day," Dagmi said. "… Andre Young, who opened his showroom three years ago, drove from Richmond. He hasn't been coming to High Point Market for very long, and so HPxD Design Day was the perfect way for him to be exposed to new brands that he hasn't gotten to visit at market, participate in intimate learning sessions and make new connections. At about 8 p.m., when our small group disbanded from the Oly showroom (which hosted a pop-up for British textile brands Lewis & Wood and Moon), Andre decided to spend the night and resume his exploration in the morning."
"It's that ease of accessibility and getting around at one's own pace that truly differentiates the everyday HPxD experience in High Point," Dagmi continued. "We want designers to know that we are here for you when you want to come and need to."
Dagmi joined HPxD as managing director earlier this year. As a self-proclaimed "connector in the design industry" who previously was editor-in-chief of Designers Today, it's a good role for her. Among her goals for the remainder of 2022, she said, is to continue to draw both repeat visitors and "newbies" to Design Days — and to grow the number of flagship showrooms. "We'll have some new brands to introduce over the next four months, as well," she said. (Next week, our Decor News Now newsletter will profile one of the newest HPxD members.)
HPxD will host two more Design Days this year, Sept. 7 and Dec. 7. The September event will include at least two educational sessions: "The 411 on Rugs" with Justin Yeck, vice president of designer engagement and education at Feizy Rugs, and "Don't Thank the Editor: Media Training for Lifelong Media Coverage" with Mary Leigh Howell of Mary Leigh Howell Communications, hosted by Universal Furniture.
As for December, Dagmi said, "Last year before I got here, HPxD did a December event called 'Cool Yule.' People are still talking about it. I'd like to make sure we live up to that and perhaps even top it!"
That sounds fun. Whatever HPxD plans, I hope it includes plenty of invaluable tush time, too.