2023 Kitchen & bath lighting trends with Ferguson

This week we talked to Stephanie Stroud, the area manager of Ferguson's Los Angeles and Santa Barbara showrooms about the latest trends in lighting for kitchens and baths. From channeling old world, royal estates, to combining minimal styles from around the world, and embracing nature with eco-friendly and biophilic designs, these lighting trends encompass a diverse range of styles and themes. To watch our discussion, press play on the video below or read on for the top 9 lighting trends in kitchen and baths for 2023:
Top 9 lighting trends in kitchen and baths for 2023
1. Eco-Friendly Lighting:
With a growing emphasis on sustainability and energy efficiency, eco-friendly lighting has become a prominent trend in kitchen and bath design. LED lighting fixtures are a popular choice as they consume less energy and have a longer lifespan compared to traditional incandescent bulbs. Additionally, energy-saving features like motion sensors and dimmable options provide flexibility and further reduce energy consumption. Eco-friendly materials, such as sustainably sourced wood or recycled glass, are also being incorporated into lighting designs to minimize environmental impact.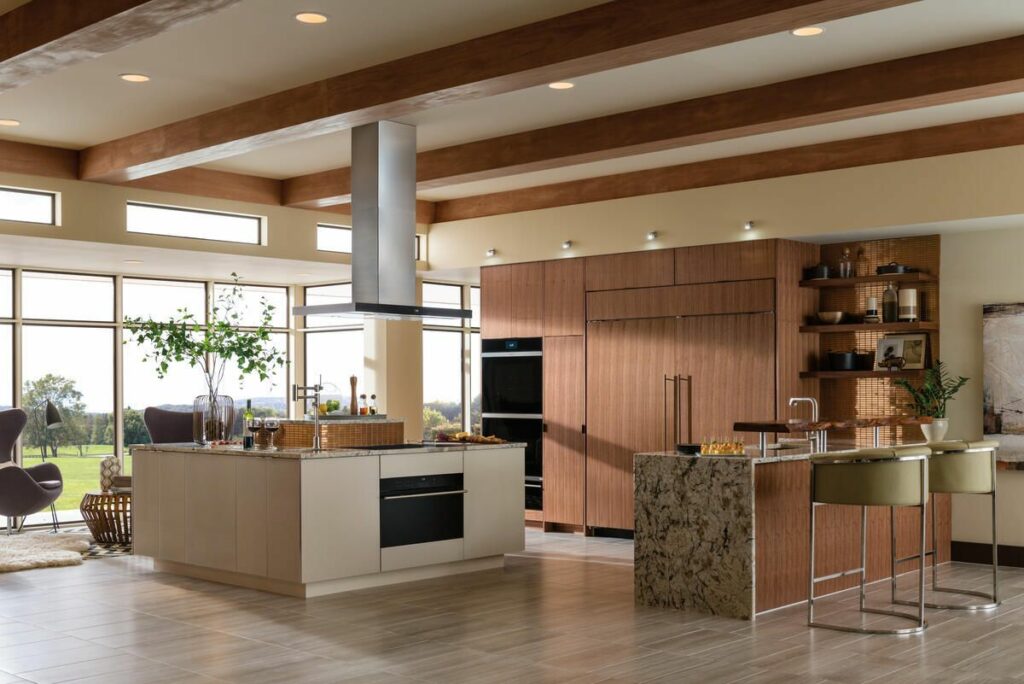 2. Biophilic Inspiration:
The biophilic inspiration trend draws on the concept of human connectivity with the natural world to promote a serene and calming environment. In kitchen and bath lighting, biophilic design features warm, earthy tones and incorporates organic materials such as wood or woven fibers. Light fixtures may mimic natural forms such as leaves or flowers. Pendant lights that resemble birds' nests or seashells are popular choices. The aim is to create an engaging and immersive sensory experience where the user feels close to nature. The use of natural or simulated lighting that mimics the sunlight or moonlight is also common. These fixtures create a soothing atmosphere reminiscent of the outside world indoors.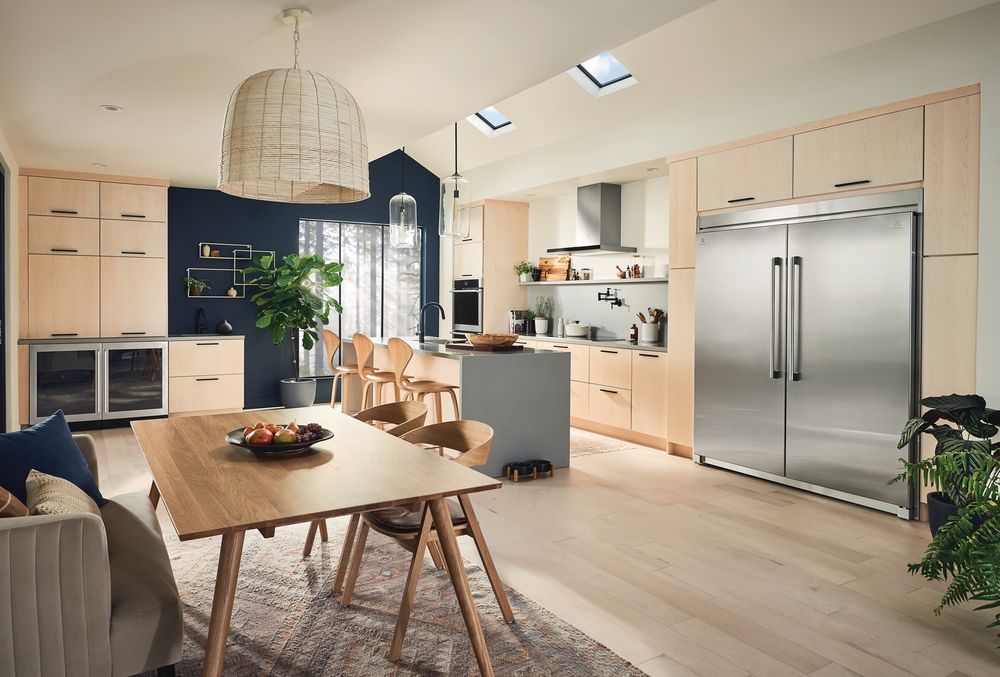 3. Old World Estate:
Inspired by the grandeur and opulence of historic estates, the old world estate trend brings a sense of timeless elegance to kitchen and bath lighting. Chandeliers, pendant lights, and wall sconces in ornate designs and finishes like bronze or brass evoke a sense of luxury and sophistication. Crystal embellishments and intricate detailing add a touch of glamour to these fixtures. The old world estate trend creates a rich and regal ambiance, transforming the kitchen or bath into a space with an inherent sense of grandeur and history. 4. Royal Aspirations:
For those seeking an extravagant and majestic aesthetic, the Royal Aspirations trend is a perfect fit. Inspired by the grandeur of royal palaces and stately homes, the lighting in kitchens and baths showcases ornate chandeliers, elegant wall sconces, and decorative pendant lights. Rich finishes such as gold, silver, or antique brass exude opulence. Crystal accents, intricate carvings, and elaborate candelabra bulbs add a regal touch. The placement of lighting fixtures strategically highlights architectural details and creates a sense of luxury fit for royalty.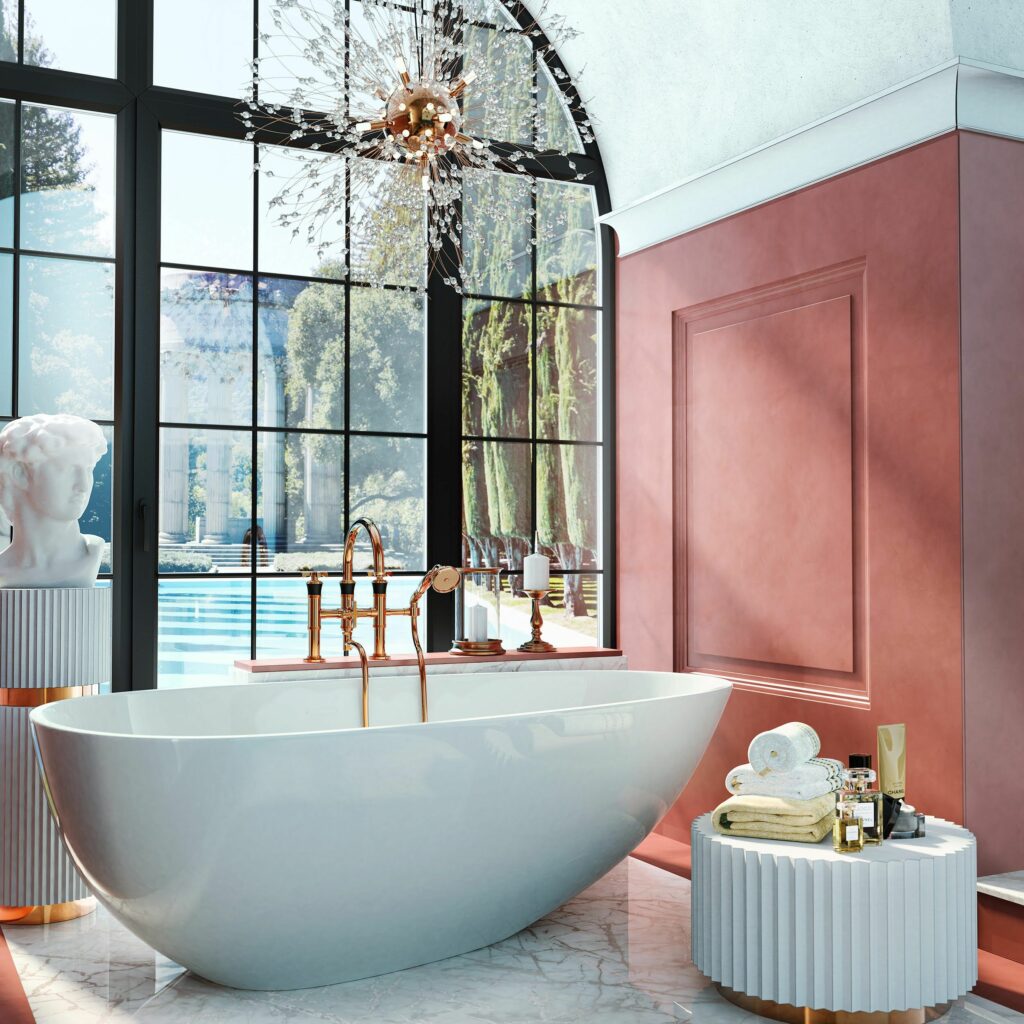 5. Japandi:
Japandi is a fusion of Japanese and Scandinavian design, characterized by its simplicity, minimalism, and focus on natural materials. In kitchen and bath lighting, Japandi-inspired fixtures showcase clean lines, uncluttered designs, and use of organic materials such as wood, bamboo, or paper. Soft, ambient lighting is favored to create a calm and serene atmosphere. Pendant lights or simple ceiling fixtures in neutral tones or light wood finishes are commonly seen in Japandi designs, contributing to a harmonious and balanced aesthetic.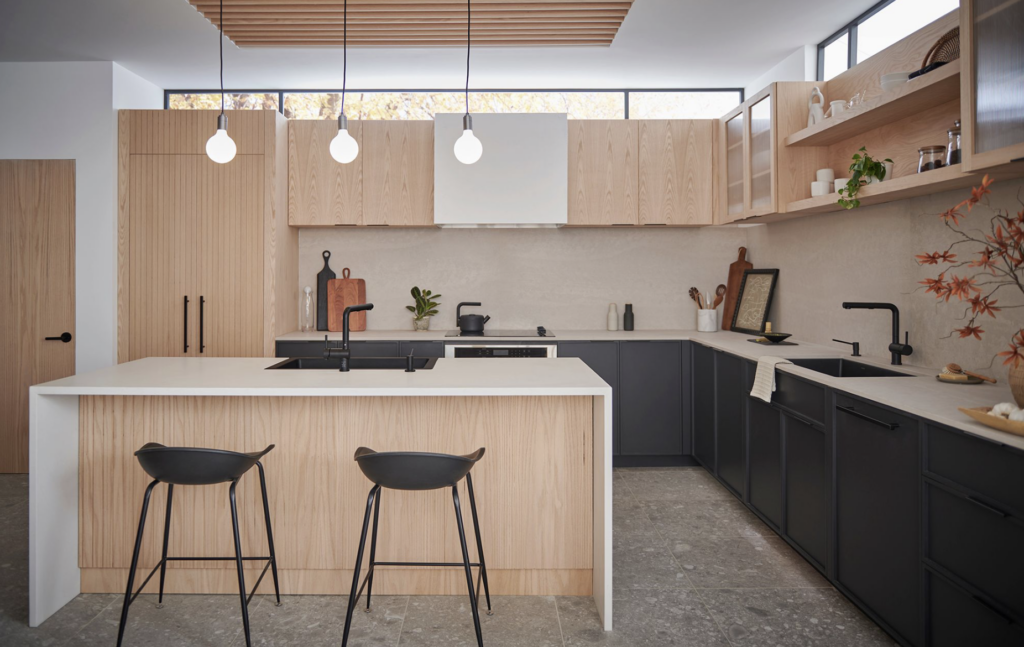 6. Modernized Midcentury:
The modernized midcentury trend takes inspiration from the iconic design aesthetic of the mid-20th century and gives it a contemporary twist. In kitchen and bath lighting, this trend features sleek and streamlined fixtures with clean lines. Pendant lights with geometric shapes, globe or cone-shaped sconces, and floor lamps with tripod bases are popular choices. Materials like polished chrome, brushed nickel, or matte black enhance the modern feel. The use of bold, vibrant colors or contrasting elements injects a fresh and updated vibe into the midcentury style, while still maintaining its retro charm.
See Also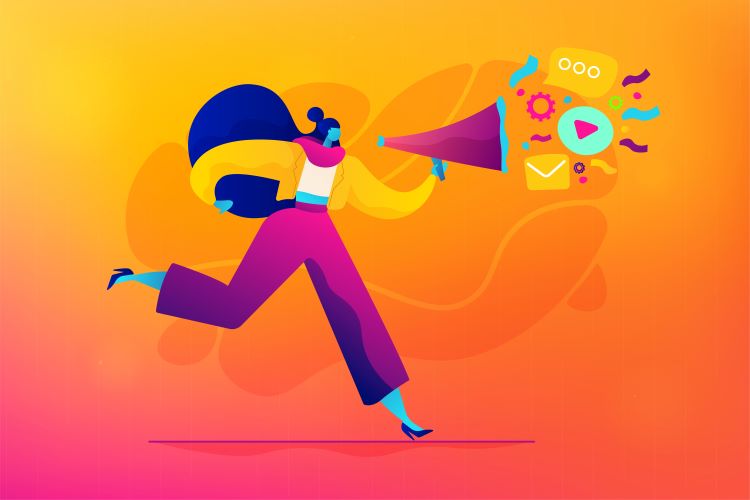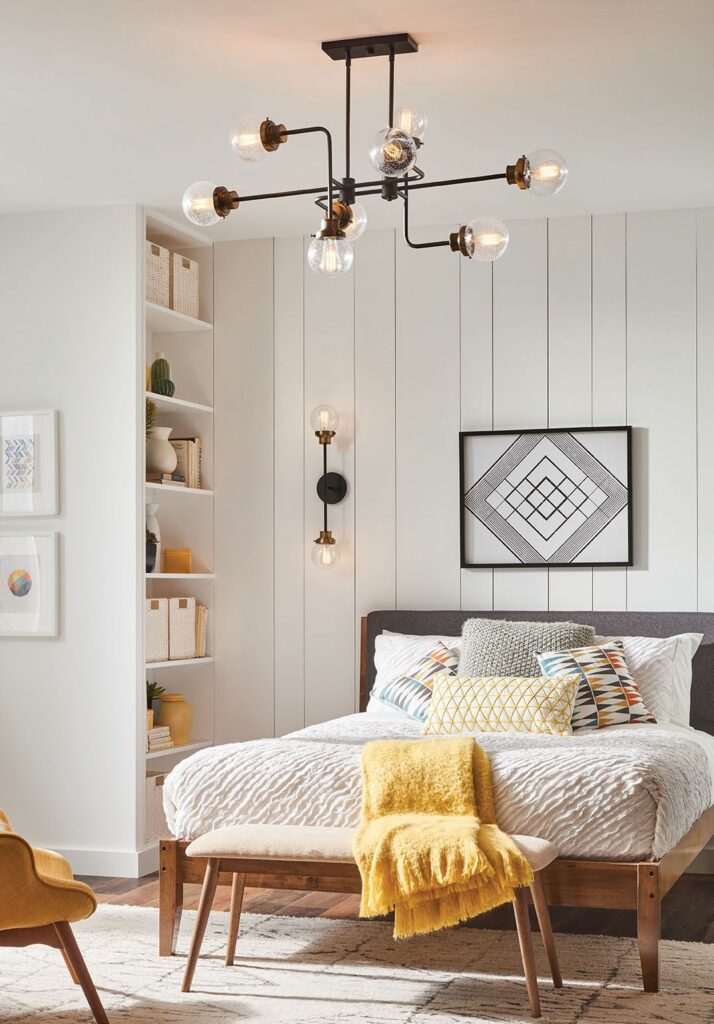 7. Gothic Glam:
Combining dark, moody aesthetics with sophisticated elements, gothic glam lighting lends a dramatic and luxurious feel to kitchens and baths. Black metal fixtures with ornate detailing, reminiscent of Gothic architecture, are key features in this trend. Crystal accents, smoked glass shades, or metallic finishes like gold or silver contribute to the glamorous allure of these fixtures. The juxtaposition of light and shadow created by carefully positioned lighting adds depth and adds a gothic ambiance. Gothic glam lighting transforms kitchens and baths into captivating spaces with a touch of mystery and allure.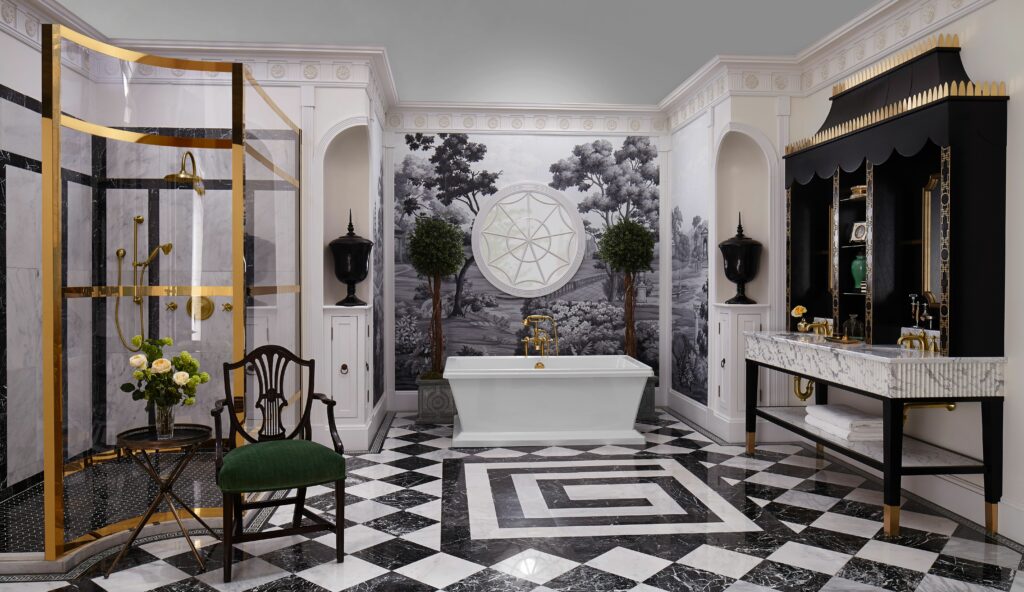 8. Wet Room Bathrooms Inspired by European Style:
Wet room bathrooms, a trend inspired by European design, combine the shower and bath area to create a spacious and open concept. When it comes to lighting in wet room bathrooms, functionality and water resistance are key considerations. Recessed lighting with waterproof fittings is commonly used to provide even, overhead illumination. Wall-mounted sconces or LED strips are strategic choices to illuminate bathroom mirrors. The European-inspired style embraces simplicity and minimalism. Clean-lined fixtures in stainless steel, brushed nickel, or matte black are typically favored, offering a contemporary and spa-like feel. Natural light is also embraced through the use of skylights or large windows, enhancing the open and airy atmosphere of wet room bathrooms.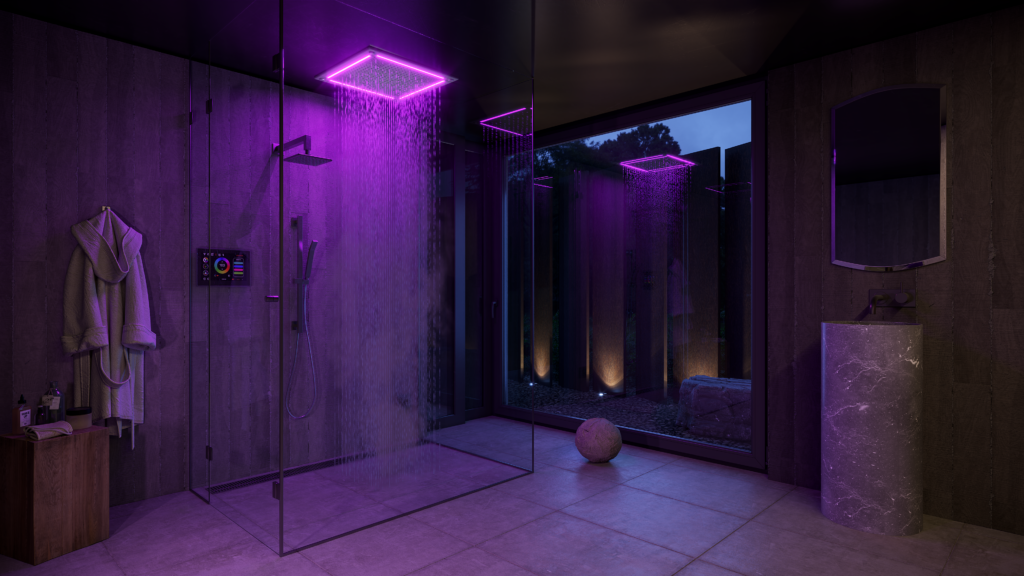 9. Multisensory Design:
The multisensory design trend combines lighting and other elements to create a holistic and immersive experience. This design approach targets all the senses, including sight, touch, sound, and smell, to create a sensory-rich environment. In kitchen and bath lighting, this may involve incorporating water features, ambient sounds, or aromatic diffusers into lighting fixtures. Lighting can take on different hues or colors to match the desired mood or activity happening in the kitchen or bathroom. Light patterns that mimic natural phenomena such as sunrise and sunset can also be incorporated. The aim is to create a user-centric experience that goes well beyond the traditional visual focus of lighting. By engaging all the senses, multisensory design adds depth, and emotional connection to spaces.