Warm hues and glittering gold will dazzle at the Atlanta Market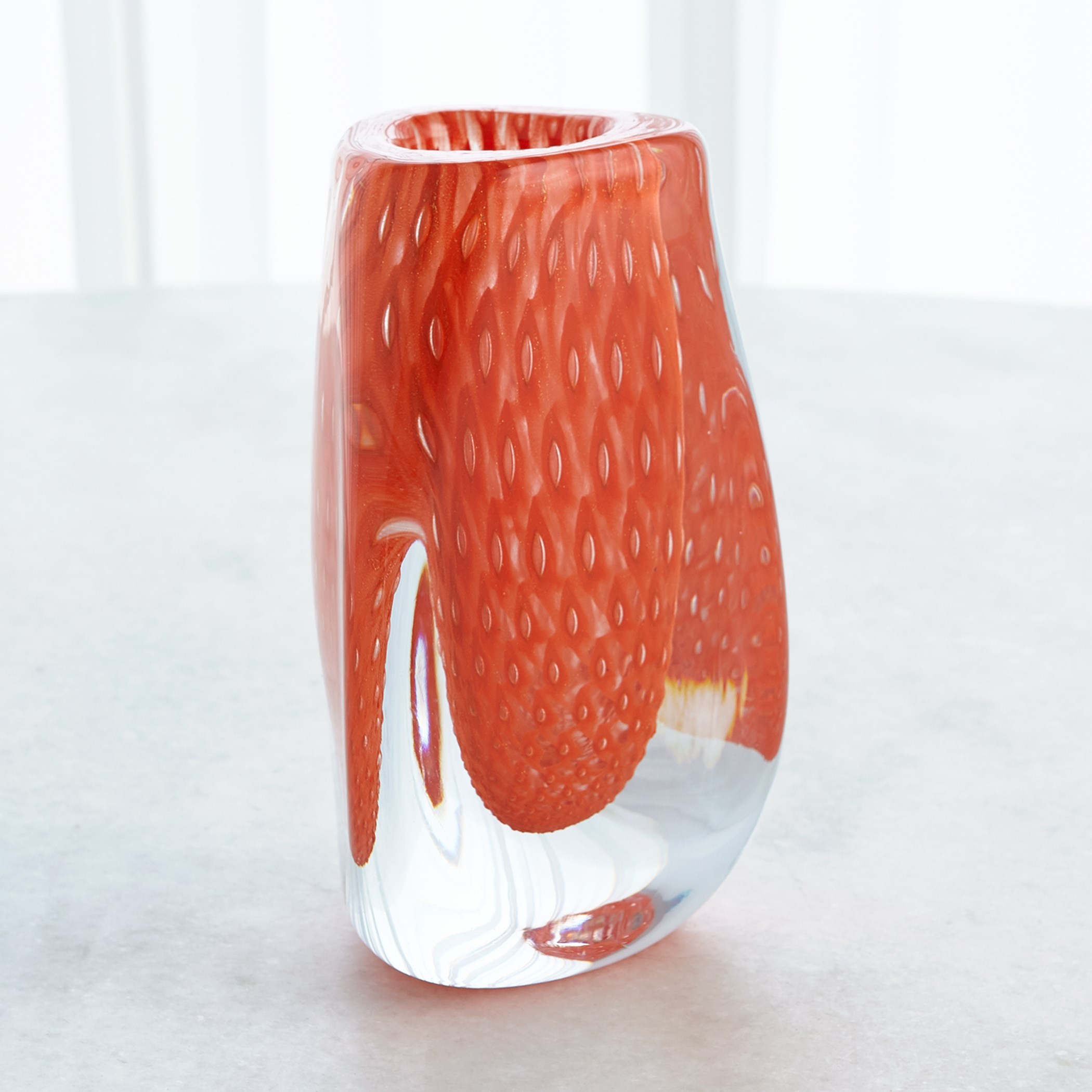 The warm oranges of a fiery sunset. The blush pinks of a flower petal. The sandy yellows of a beach. The golds of a glittering mid-day sun.
As the Decor News Now team sorted through home furnishings and accessories that will be shown at the Atlanta Market July 12-18, we found a compendium of warm, summery hues with lots of shimmering metallic gold. That's perhaps appropriate for a summer market, but these pieces will make a statement year-round. (Some of these sources show through JuniperMarket, too.)
(Click here for a showcase of cooler and water-washed hues from Atlanta exhibitors. And click here for a look at vibrant rugs you can see in Atlanta and other summer markets.)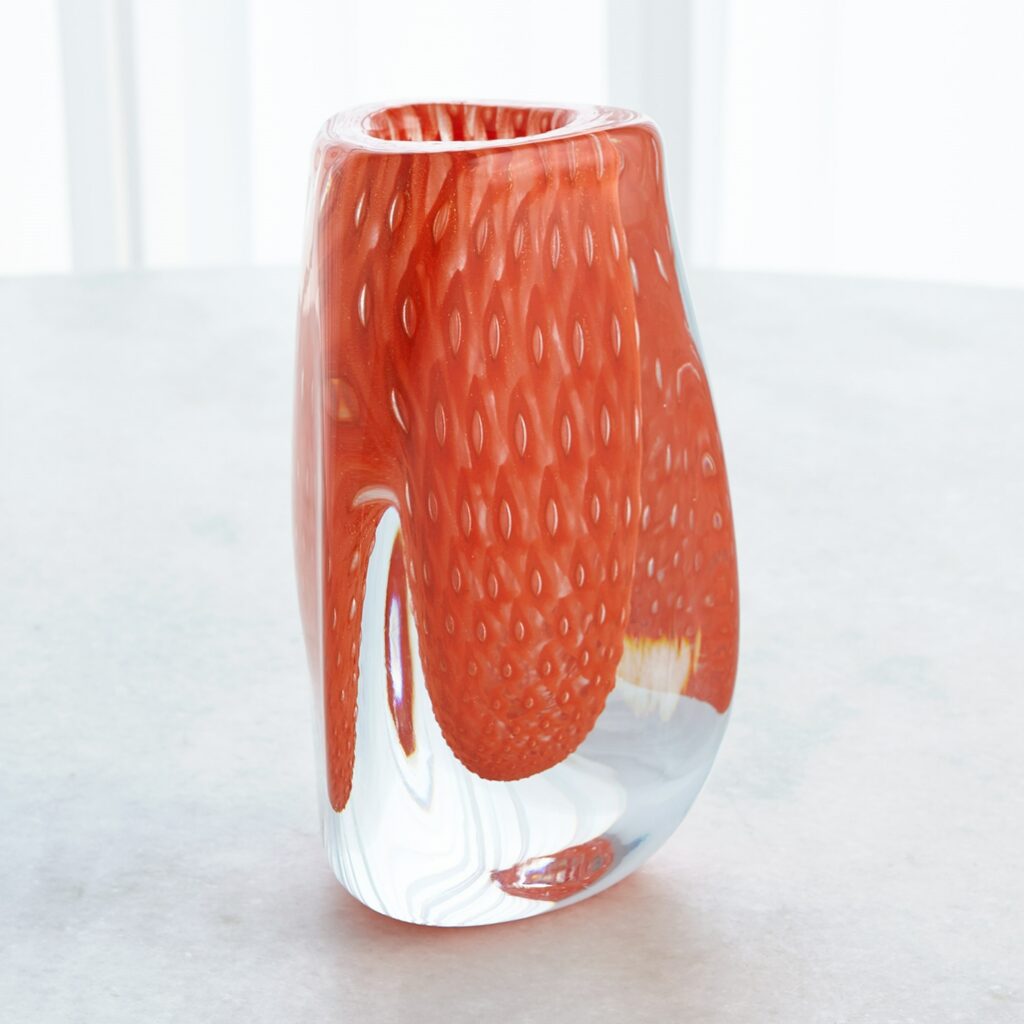 This hand-formed triangular Bubbled vase is made of clear Italian art glass that allows the layers of bubbles and orange hues to shine through. It is part of a large collection of vases, candlesticks, serving pieces, object d'art and other tabletop accessories that Dallas-based Global Views will show in Atlanta. (Atlanta Market, AmericasMart, B1 14-C15)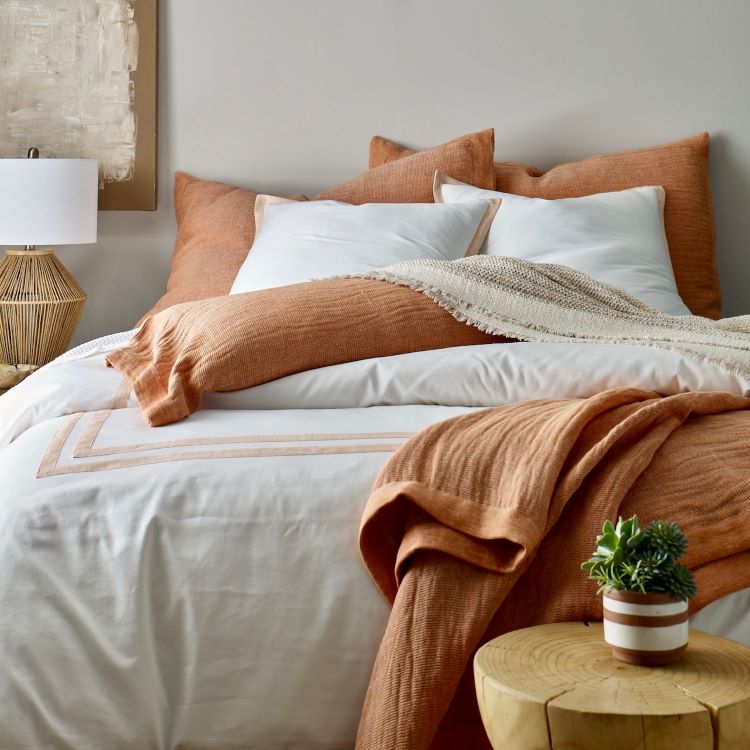 TL Home, based near Hudson, New York, has added what it describes as a "lush and elegant palette of earth-inspired colorations" to its artisan-crafted bedding. The Clay ensemble shown here includes the Alice White Percale/Clay duvet and Euro shams (offered in three colors), the Maria Clay throw, decorative pillow and Dutch shams (offered in three colors) and the Rumor Natural Linen throw (offered in four colors). Also new from TL Home is a new sophisticated Georgie ensemble.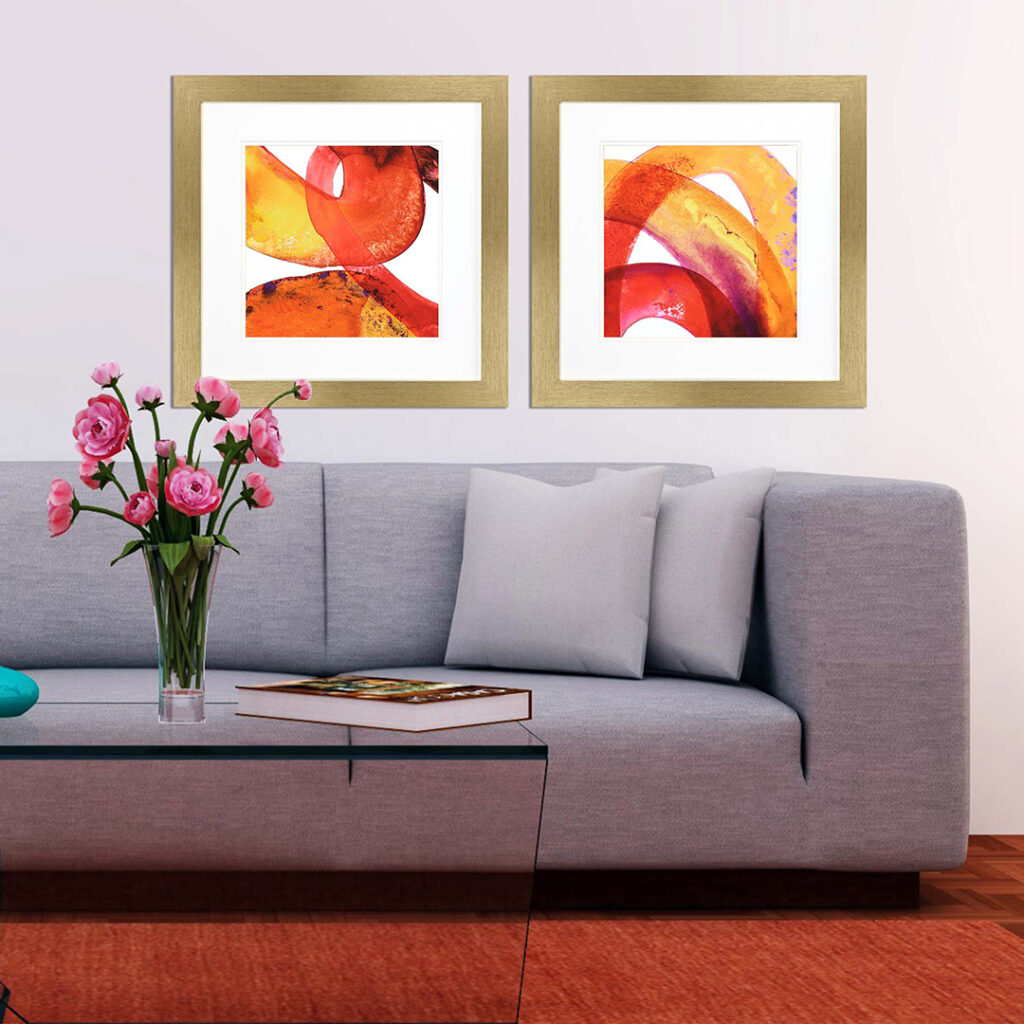 Red and gold ribbons twirl and spin in "Experiment," a set of giclee prints from Paragon in Albertville, Alabama. The set is double-matted in white and framed in a flat profile molding with an antique gold finish. (B1 12-A8)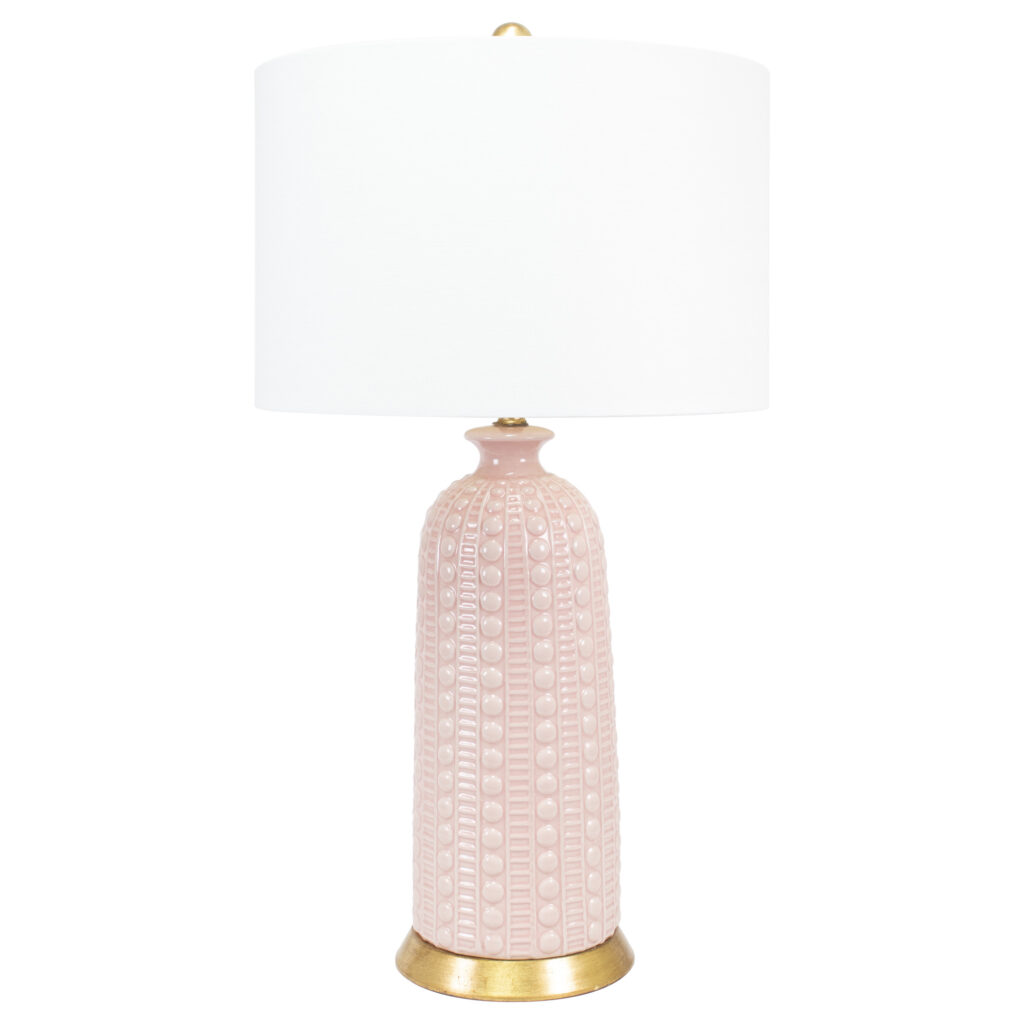 Couture Lamps & Home Furnishings in Jonesboro, Arkansas, says its Melrose table lamp is "sure to turn heads" with its "shapely silhouette" and petal pink glaze. It sits atop a metal base finished in gold leaf and is topped with a white slub linen drum shade and a gold-leaf ball finial. (B1 9-C15)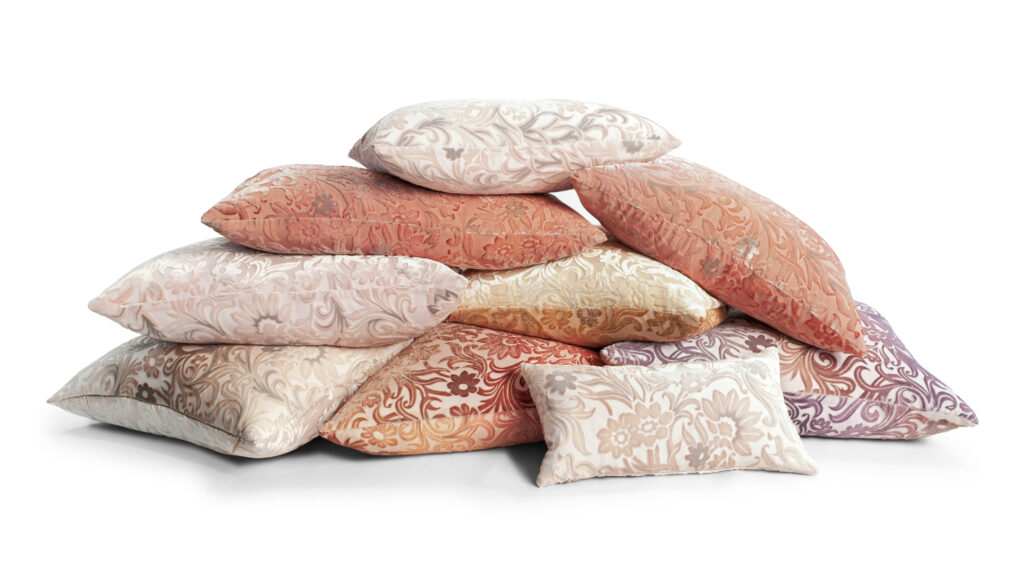 Part of the new Prospect Park collection, the pillows from Philadelphia-based Kevin O'Brien Studio are made of handcrafted velvet fabrics. The collection also includes fabric yardage. (B1 9-C6)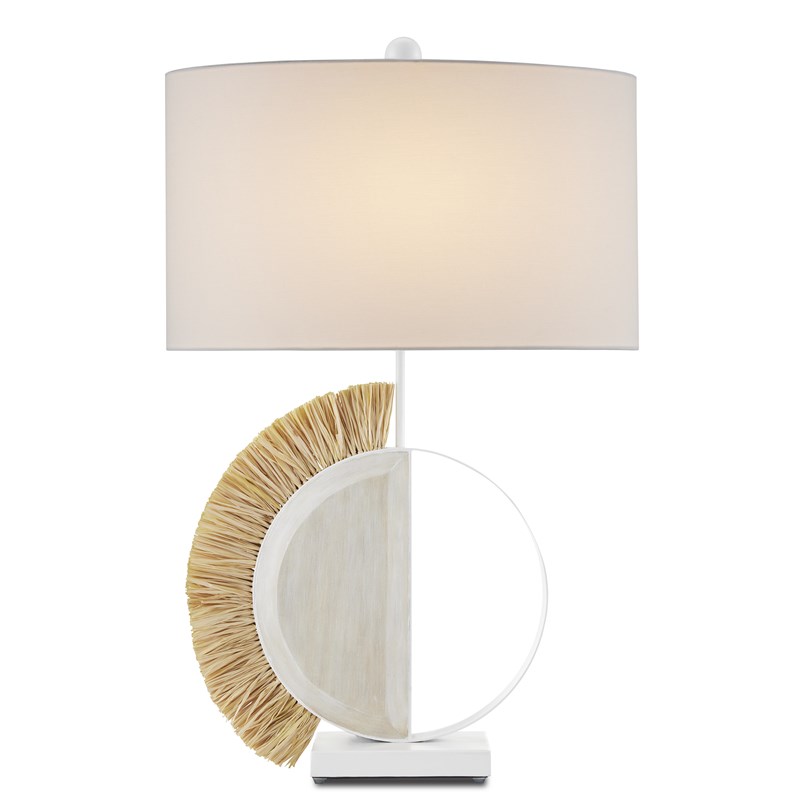 The Seychelles table lamp is part of Jamie Beckwith's lighting collection with Atlanta-based Currey & Company. The circular profile of the white lamp is made of wrought iron in a sugar white finish. It is fitted with a wood panel in a sandstone finish and a hand-cut spray of raffia completes the island vibe. (B1 1-L3)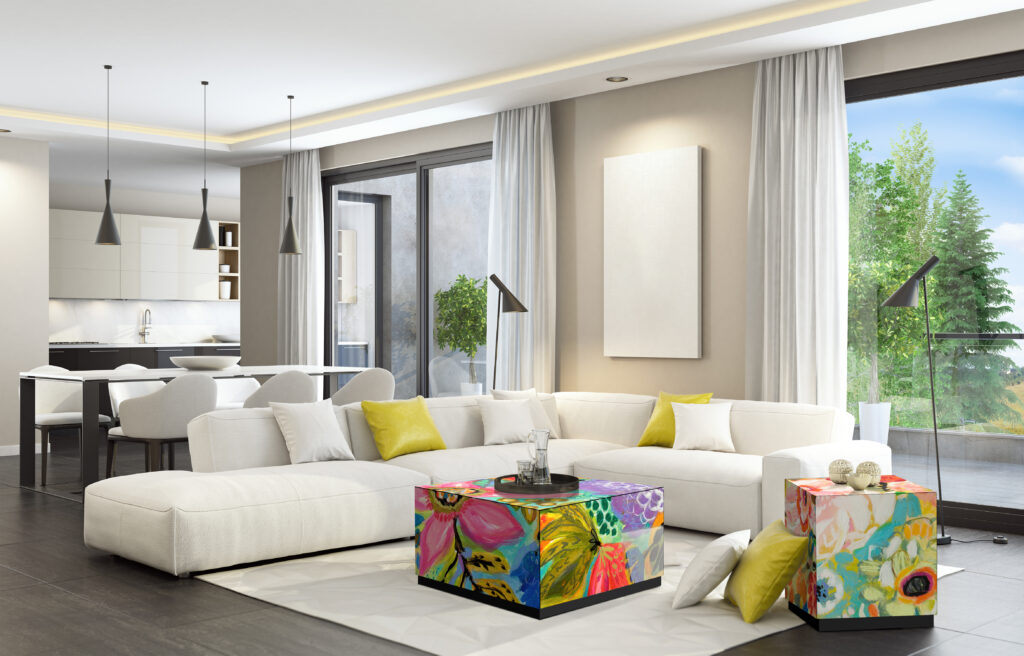 The reverse-printed glass Secret Garden Floral tables are available as beveled cocktail tables and lamp tables. From Empire Art Direct, based in Weston, Florida, the tables sit atop black plinth bases. The set retails for $2,000. (B1 11-E11)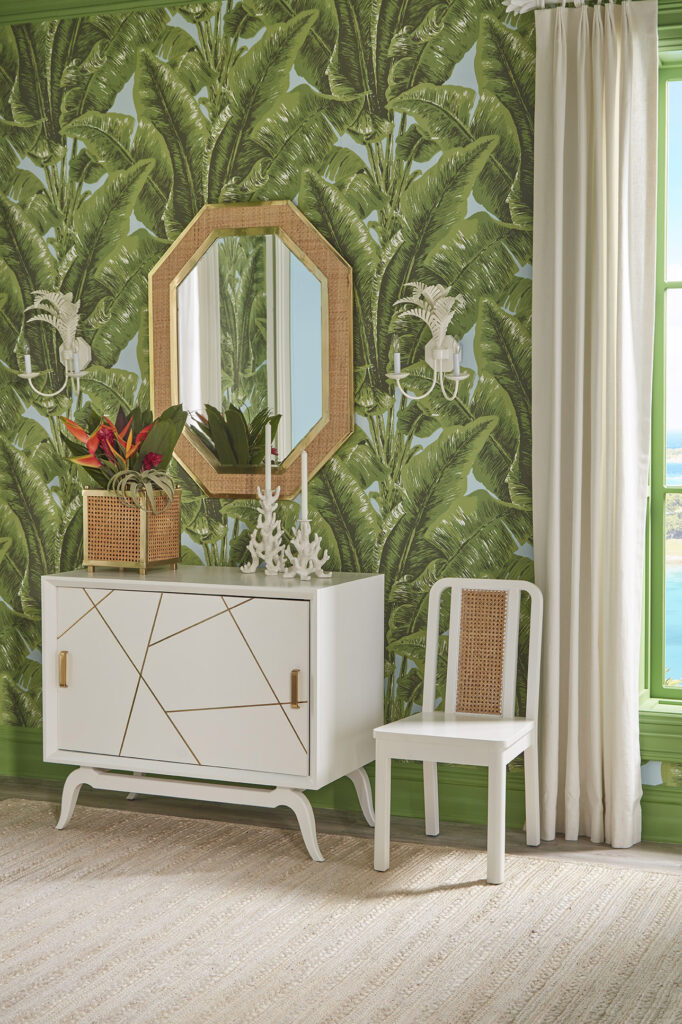 The Sinatra Drinks cabinet from Wildwood in Rocky Mount, North Carolina, has a unique revolving door that brings the interior bar to the fore when you open it. Shown painted in white with a pale blue interior, it is also available in black with a red interior. Both feature brass inlay on the door panel and brass hardware. (B1 14-E7)
Hand-painted gold swirls jump off the canvas in this dimensional art from Leftbank Art, with headquarters in La Mirada, California. The company's products are developed by in-house artists who hand paint original works, as well as through partnerships with artists all over the United States. (B1 13-F2 & 13-D2)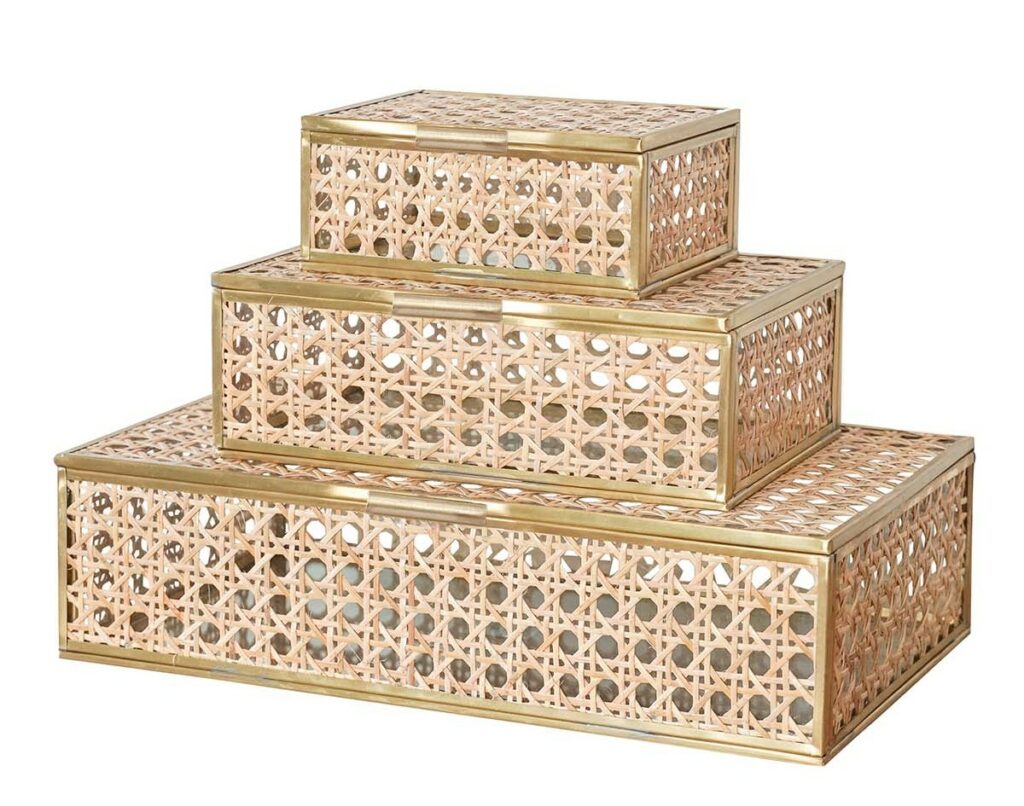 Natural cane wicker is applied to glass and the decor boxes are accented with gold-finished metal edges for a trendy yet timeless look. The box from Anaya Home, based in Naples, Florida, is available in three sizes. The largest (13.5" x 8" x 3.5") retails for $175. (B2 11-1101A & 11-1101B; B2 11-1119)
See Also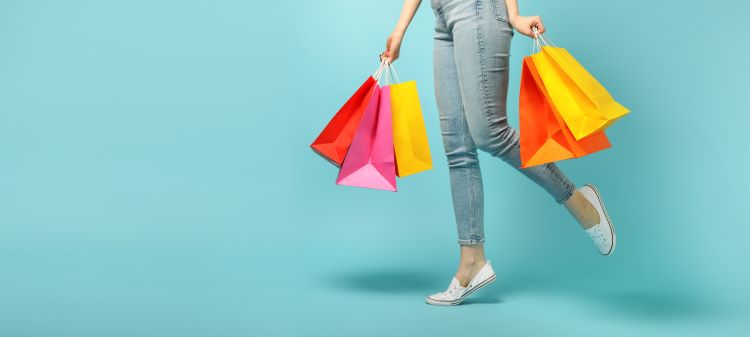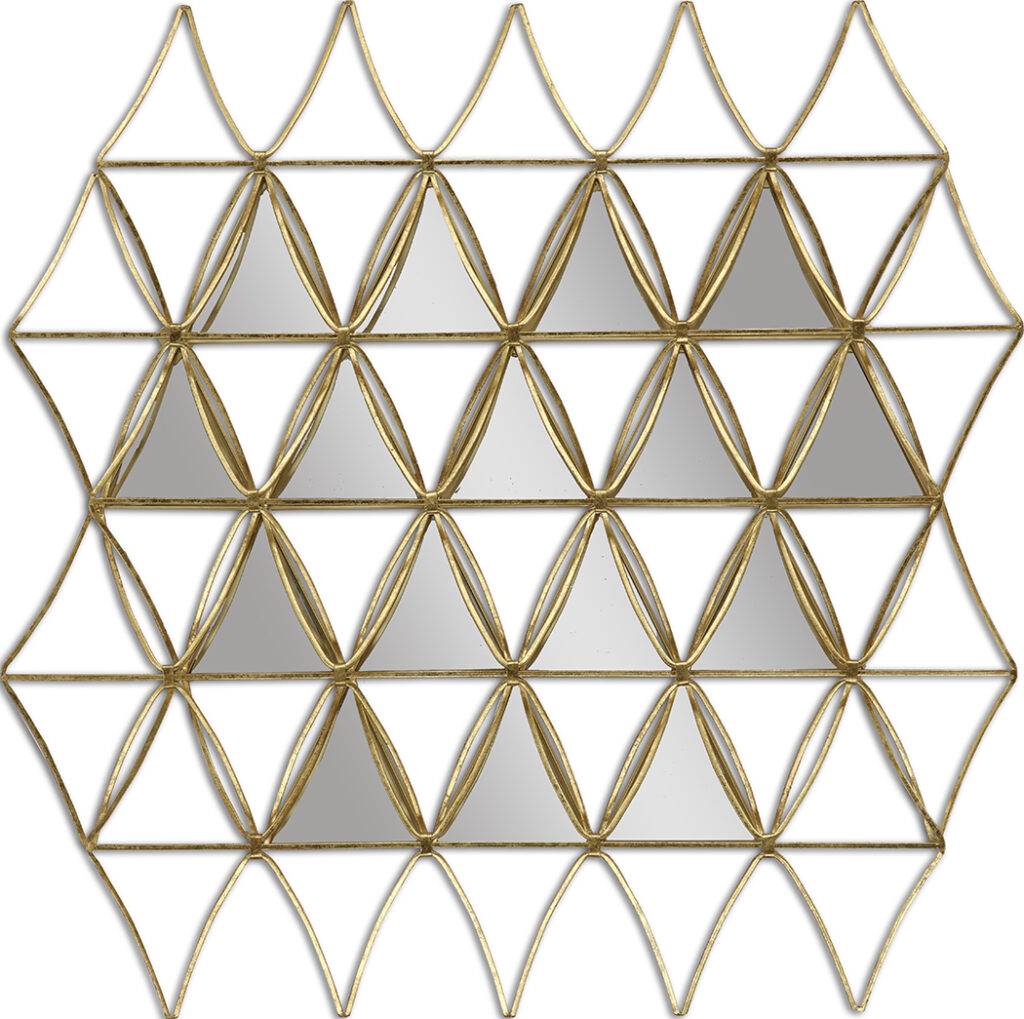 The At Every Angle mirror is a reflective piece of metal wall sculpture, also from Paragon. The triangular mirrors are dimensionally interlaced with gold accents. (B1 12-A8)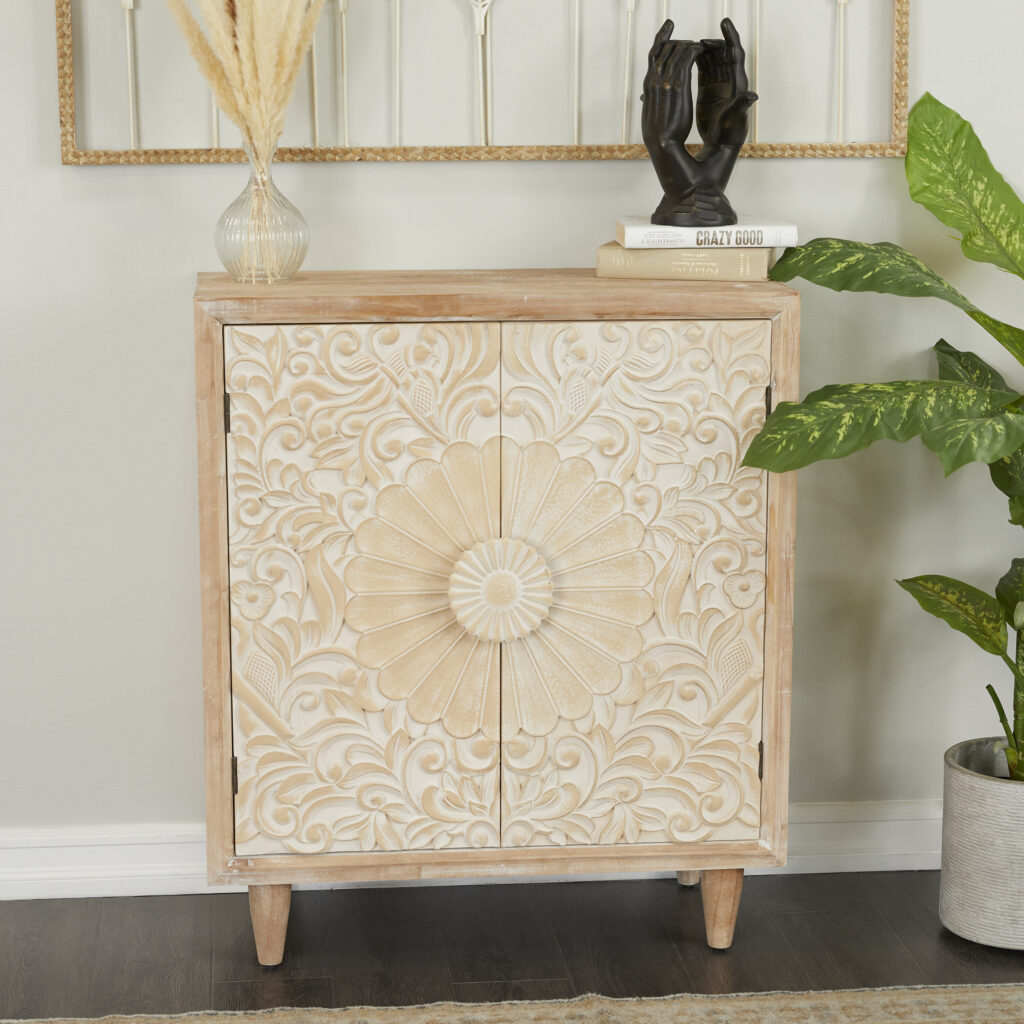 With a whitewashed light brown finish and carved cabinet fronts, this Farmhouse cabinet from UMA Home Decor in Compton, California, has a classic, cozy feel. The interior features two shelves for storage. (B1 11-F3)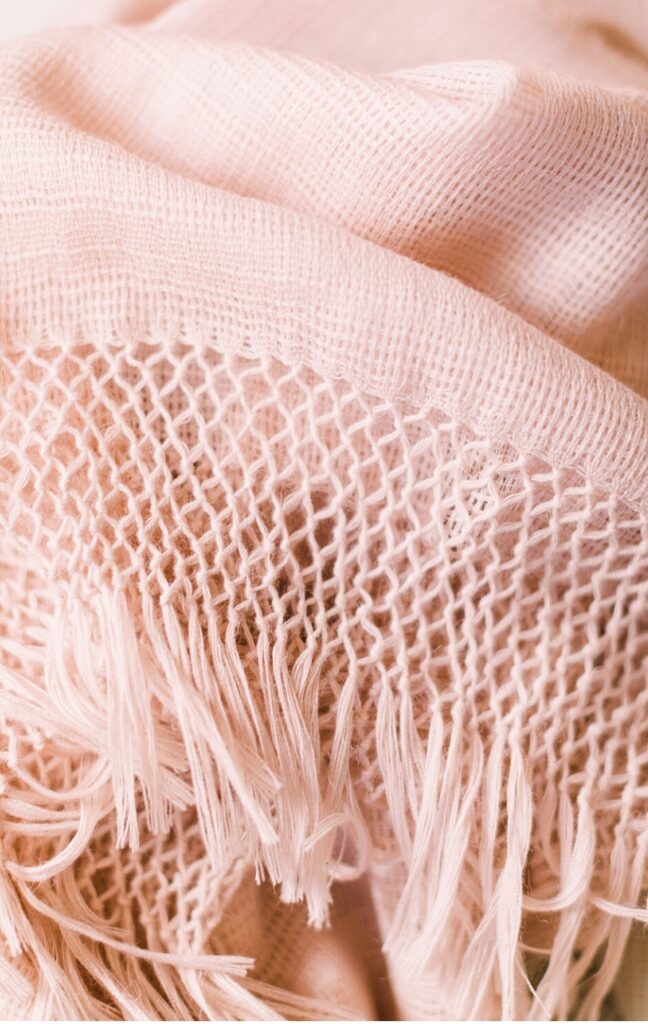 Boston-based Dove and Donkey describes its Lacey throw as "a web of softness." It is made of 100% baby alpaca woven in an airy grid pattern with fringe handwoven by women artisans in Callalli, Peru. Available in Cloud, Shell and Pale Jade colorways. B2 1-100B)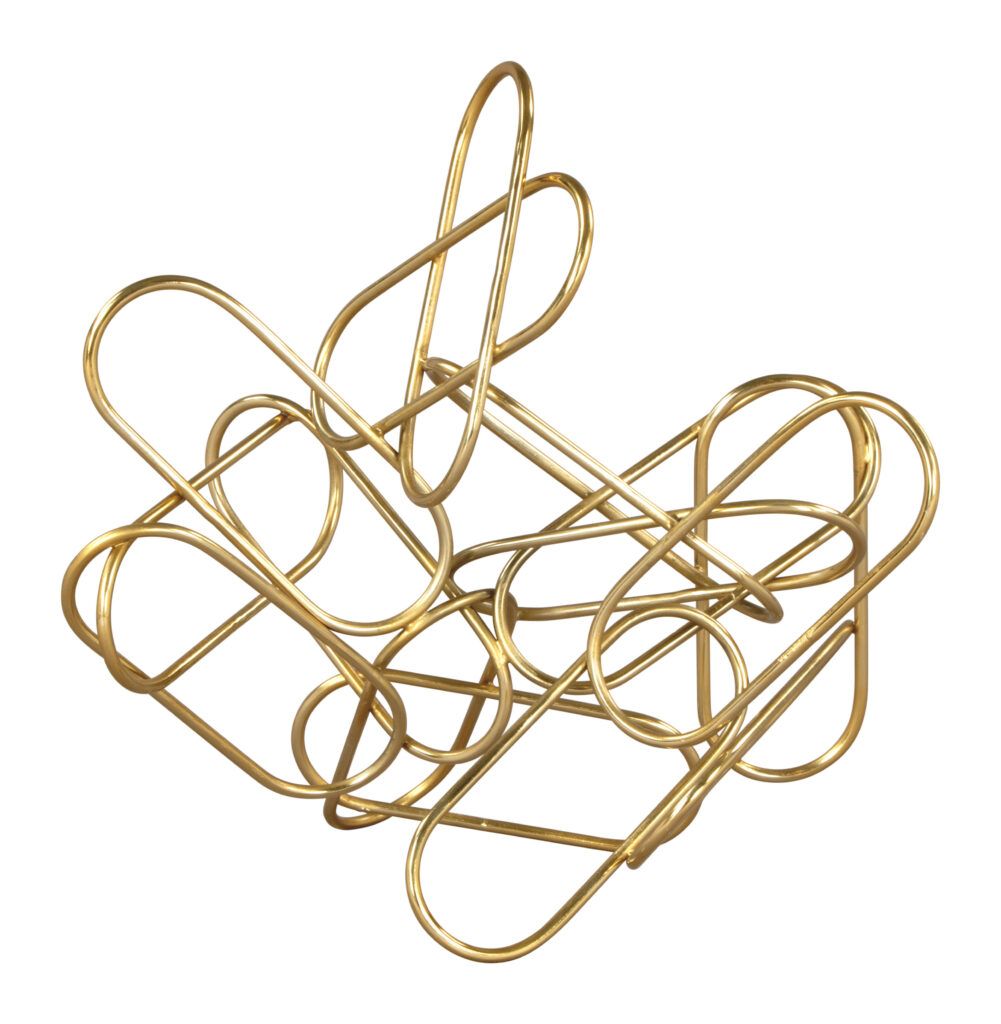 This Clip table art can bring together a room's design. With a gold finish, it is made of cast aluminum. The piece from Oakland, California-based Zuo retails for $285. (B1 11-E15)