Things are speeding up at Sherrill Furniture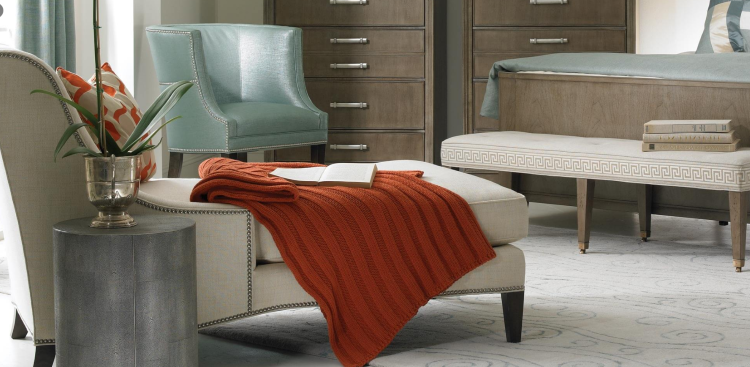 Luxury upholstery and case goods manufacturer Sherrill Furniture said that it has lowered its backlogs and lead times significantly as it has added capacity and people to its operations, including the opening of a new upholstery plant in Conover, North Carolina, last spring.
For dealers and designers alike, this means getting products more quickly than they have in the past as lead times get closer to pre-pandemic levels.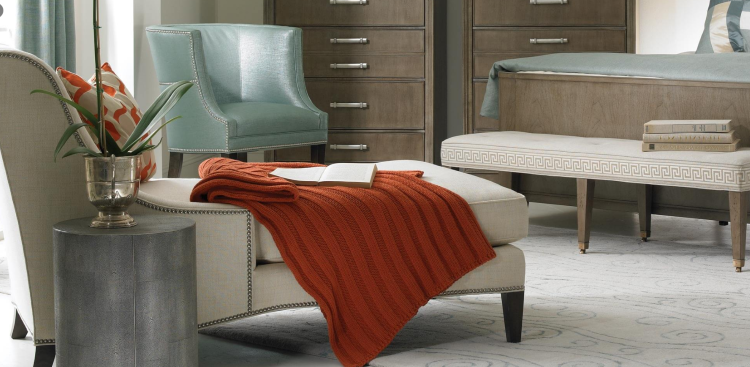 The company began production in its 150,000-square-foot Conover operation last March, a few months ahead of schedule. It started with about 40 workers and had more than 100 in place by early October, just over the 90 it had planned to have on board by year end.
This brings the total workforce in Sherrill's five production facilities to about 1,200, up from about 1,100 around this time in 2022. These employees work in four upholstery plants and one case goods plant.
Sherrill produces a number of domestic upholstery brands: Sherrill Furniture, Motioncraft, Whittemore-Sherrill, Mr. & Mrs. Howard, Hickory White, Lillian August, Precedent and Lemieux et Cie. Its domestic case goods brands include Sherrill Occasional, Hickory White, Lillian August and Mr. and Mrs. Howard.
Officials note that the throughput at the new Conover plant has also ramped up much more quickly than originally planned. This includes the shift of leather upholstery production to the facility.
"By moving leather to the new space at Conover, we've been able to optimize the leather inventory and floor layout," said Donald Wright, manager of the leather department. "We have a more streamlined flow all the way through the whole leather operation. We are cutting more now than we cut in Hickory. Each day I'm able to take in more and more work."
Dax Allen, vice president of marketing, told Home News Now that the Precedent upholstery plant has seen the most benefit from the Conover upholstery plant, as its lead times peaked as high as 50 weeks during the early months of the pandemic. As some production has moved to the new plant, those lead times are now about 10-12 weeks, a 70% to 80% improvement, Allen noted.
"It's been amazing to see the turnaround there and the resulting growth in that business, in spite of the economic headwinds," he said.
By comparison, Sherrill's lead times for custom leather and fabric, leather and motion upholstery were as high as 24-26 weeks. Today, they are now at 12-14 weeks, a 45% to 50% improvement, Allen noted.
He added that the plan is to get down to pre-pandemic lead times of four to six weeks on custom upholstery in the first half of this year.
"We know we have the talent, teamwork and technology in place to make that happen," he said, adding, "We are having record outputs pretty much every week right now and this is the result of the people we have hired, the equipment we have added and the factory we have opened."
Lead times for the company's Express program are now nine to 10 weeks and are 14-16 weeks for Hickory White upholstery, while lead times for domestic case goods are four to six weeks if the whitewood is in stock.
Johnny Suddreth, Sherrill's vice president of sales, said in a news issued that the company has seen a significant impact on shipments and orders. "We're excited about the workforce expansion and production capacity added across the Sherrill Companies," he said. "The increased stability in our workforce, a more stable supply chain and a new factory are all contributing to lead times coming down. This improvement has stimulated our special-order business, and we are consistently shipping more custom products each week than ever before."
Officials also note that orders have slowed some because of a softening of the home furnishings business in general. However, the company believes it has made the right long-term decision in expanding its operations.
"Everything is softening up right now everywhere," Allen said. "Orders are getting softer, and we are working through the backlog, but the throughput really has to stay up because you have old orders that have been in the backlog a while. And with new orders that keep coming in, we have to keep hitting that level of production in order to keep getting it out. Our incoming orders are at a level that is sustaining the additional hiring and the other things we've done."