Salvatori on building a heritage brand

With the release of each new collection, Salvatori reaffirms its dedication to sustainable design and creative collaboration. Through the latest Patchwork collection, they reimagine their heritage, showcasing their distinctive use of materials tailored for contemporary households. DNN spoke with CEO Gabriele Salvatori, of the family-owned brand. The conversation covers:
Building and maintaining a heritage brand
Scouting cutting-edge design talent
The influence of the American market on the Italian brand
Their partnership with Piero Lissoni for the creation of Patchwork.
Click play on the video below to watch DNN Editor in Chief Courtney Porter in conversation with Gabriele Salvatori:
About Patchwork by Piero Lissoni for Salvatori
Patchwork was conceived by renowned designer Piero Lissoni for Salvatori. Crafted from small tiles sourced from Salvatori's existing collections, Patchwork encourages the consumer to actively engage in the design process, allowing them to piece together various textures to craft unique décors.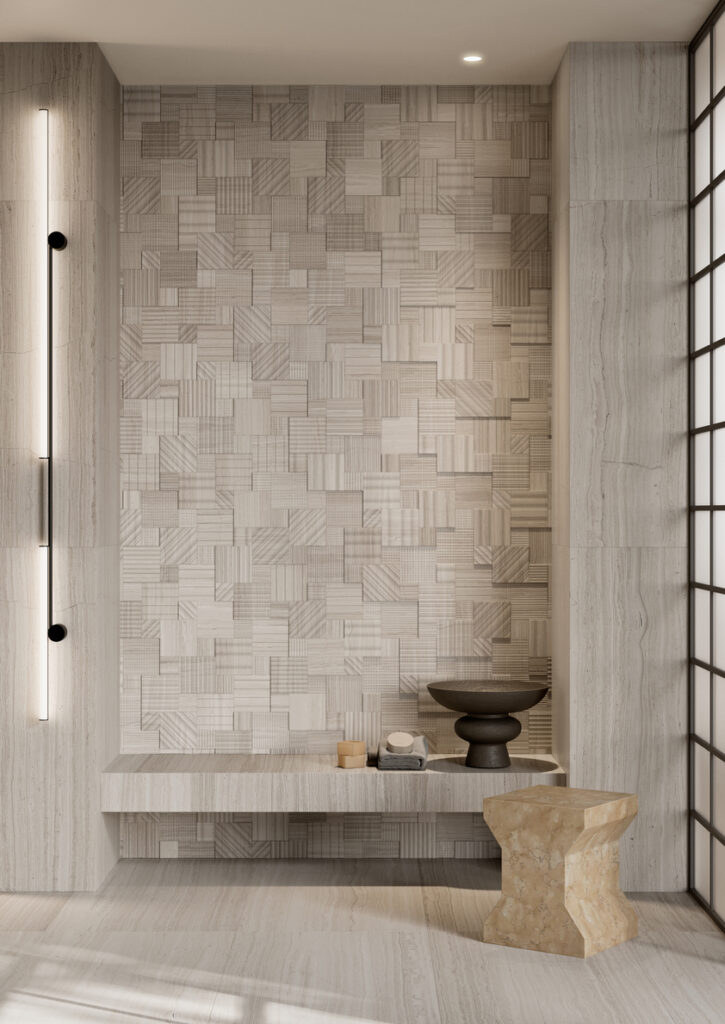 The name "Patchwork" aptly captures the texture's essence, where contrasting textures are skillfully melded to form visually captivating compositions. Beyond its aesthetic allure, Patchwork embodies Salvatori's commitment to eco-conscious design by repurposing excess materials to create each tile, reflecting the company's steadfast dedication to responsible design and waste reduction.
Patchwork complements Salvatori's broader range of 2023 offerings, spanning wood and stone textures to innovative bathroom solutions. At the core of their philosophy lies personalization, ceding design control to both designers and end users. This approach fosters individuality and creativity, empowering users to shape the final outcome in accordance with their distinct styles.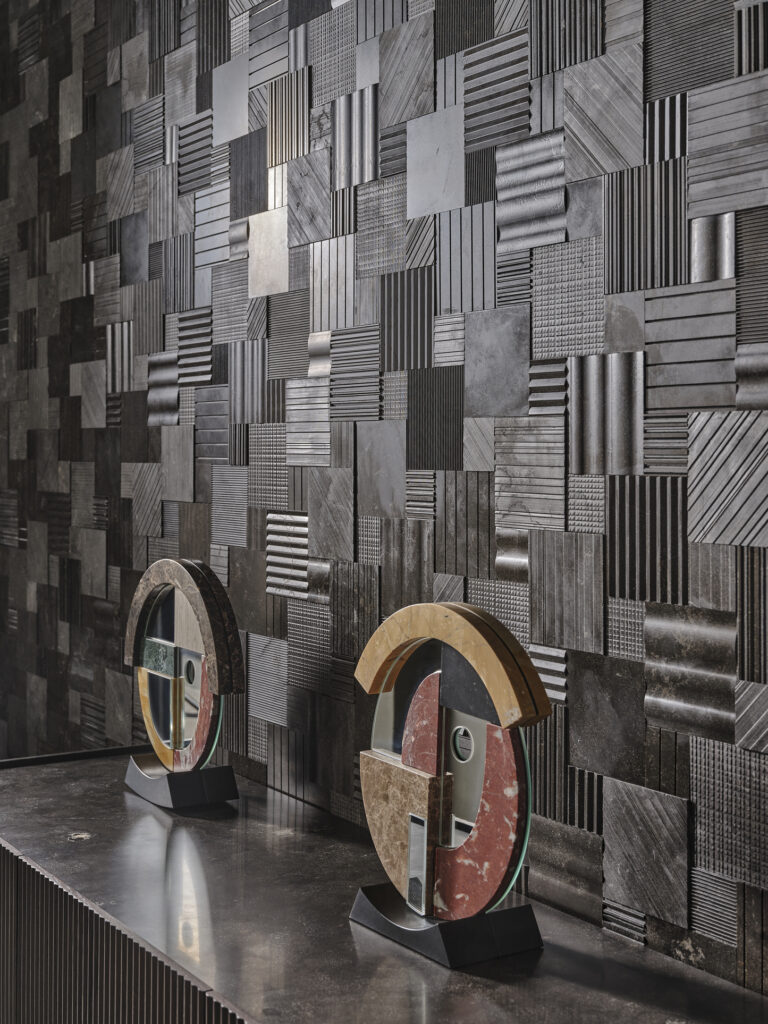 Patchwork is more than a tribute to sustainability—it's also a nod to the interconnectedness between human existence and the environment. Its inventive design harmoniously merges sophistication and the "Made in Italy" ethos, all while contributing to a more sustainable world. This intricate mosaic, characterized by its interplay of textures and dimensions, effectively captures light and attention.
Salvatori's unwavering commitment to sustainability is further underscored by other creations like Lithoverde®, Romboo, Lost Stones, and the newly introduced Passepartout. These designs exemplify the company's belief that elegance and environmental consciousness can coexist seamlessly. Patchwork stands as a tangible step towards a more sustainable future, aligning perfectly with Salvatori's promise to prioritize the Earth's natural resources.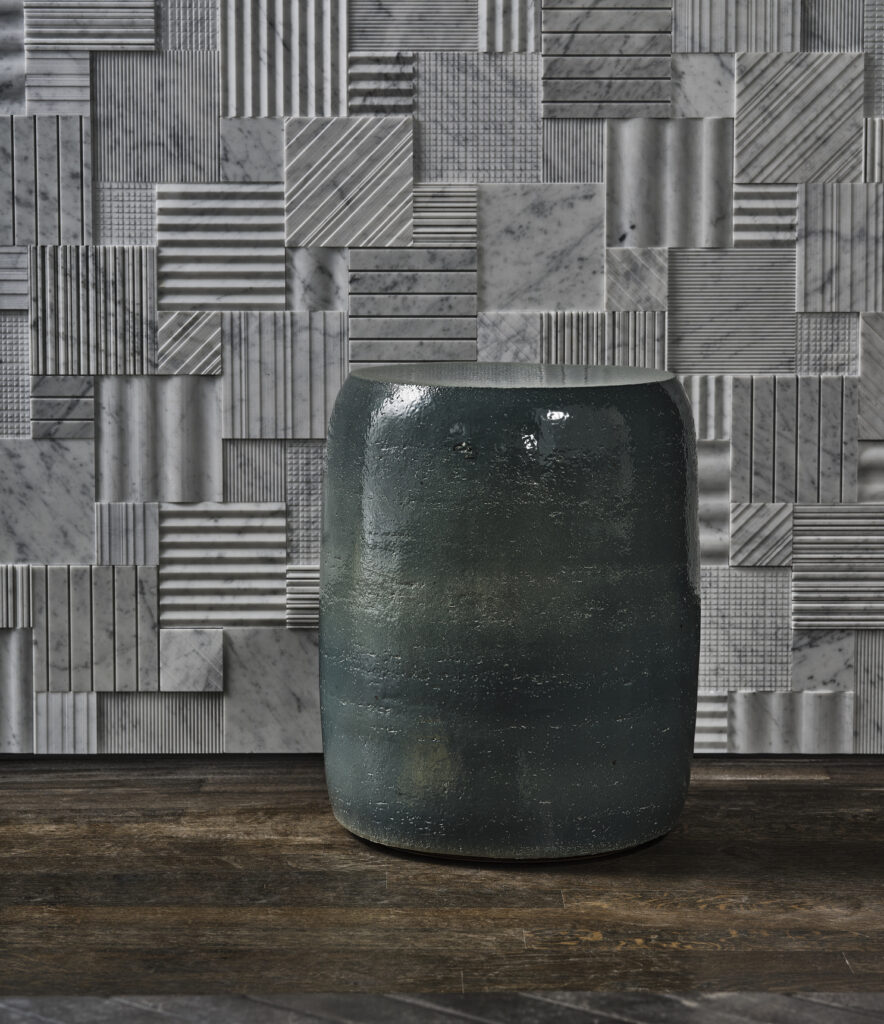 Metaphorically, Patchwork can be likened to a written form of stone-based expression, perhaps even comparable to a Rosetta Stone for the language of eco-friendly design.
More about Salvatori
Salvatori is an award-winning Italian design company specializing in natural stone. From innovative textures for walls and floors to bathroom items and products for the home such as tables, lighting, and accessories, we are considered by many as the benchmark in the "design meets natural stone" field. Drawing on the very best of Made in Italy values and cutting-edge engineering and technological know-how, Salvatori fuses old-fashioned craftsmanship with contemporary design.
Whilst many of their products are the result of partnerships with internationally noted designers, what lies at the heart of all they do is a deep-rooted passion and respect for the inherent beauty of natural stone, and its defining characteristic: that no two pieces can ever be identical, meaning that every single product has its own unique history.
About Piero Lissoni
With offices in Milan and New York, Lissoni & Partners has a thirty-year history in developing international projects in the fields of architecture, landscape, interior, product and graphic design, in addition to being responsible for the art direction for some of the most influential design companies. Led by Piero Lissoni, the practice combines a range of expertise with a tailored approach that sets it apart, establishing a stylistic code and a visual identity that are clearly and instantly recognizable. The practice's work is inspired by a sense of rigor and simplicity and is characterized by a regard to detail, coherence and elegance with particular attention to proportion and harmony. Piero Lissoni is creative director for Alpi, Boffi, Living Divani, Lema, Lualdi, Porro and Sanlorenzo for whom he also designs an extensive range of products. Recognized as one of the masters of contemporary design, he has worked with many international brands including Alessi, Antrax, Atlas Concorde, B&B, Bonacina1889, Cappellini, Cassina, Cotto, De Padova, Fantini, Flos, Glas Italia, Golran, Illy, Janus et Cie, Kartell, Kerakoll, KN Industrie, Knoll, Nerosicilia, Olivari, Salvatori, Tecno, Viccarbe. Lissoniandpartners.com