Revolution Performance Fabrics announces first designer collection with Cheryl Luckett

Celebrating a partnership that started over six years ago, the Cheryl Luckett for Revolution Performance Fabrics Collection marks a first for both brands, introducing twelve patterns in over sixty color options.
KINGS MOUNTAIN, NC – Revolution Fabrics, a premier family-owned textile leader renowned for its sustainable and chemical-free performance upholstery fabric, proudly announces its first designer collaboration with the award-winning, Charlotte-based interior designer, Cheryl Luckett. This dynamic partnership fuses unparalleled passion, impeccable design, and industry dedication, resulting in an exceptional fabric collection with twelve standout jacquard patterns available in over sixty colorways.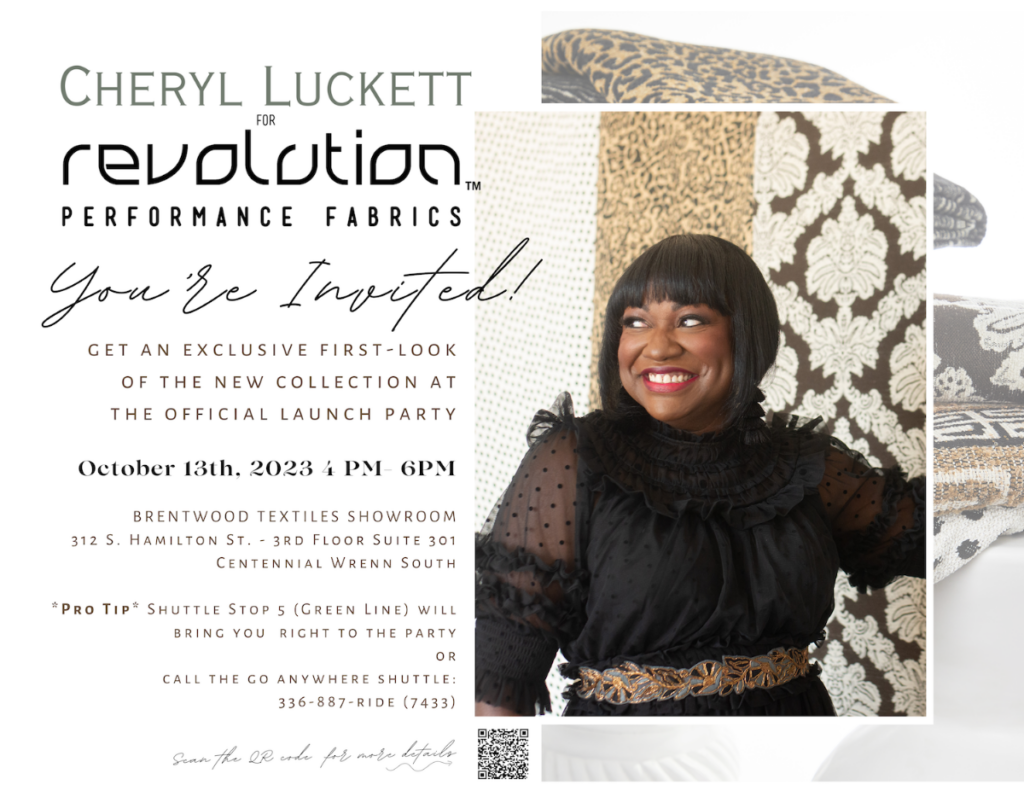 An integral member of the Revolution Fabrics family, Cheryl's collection, aptly named the Cheryl Luckett for Revolution Performance Fabrics Collection, emphasizes versatility and beauty. It resonates with her signature style, colorful palettes, and pays homage to her Mississippi roots. Drawing from timeless motifs of the American South, this collaboration beautifully integrates the durability of performance fabric with design-forward patterns, ensuring a broad appeal.
"While this collection may have been born a year ago, the relationship between Revolution Fabrics and our team extends beyond half a decade, starting with their invitation to its mill," shared Cheryl Luckett, Founder and Principal Designer of Dwell by Cheryl. "That visit marked the beginning of an unwavering alliance and camaraderie. Over the past six years, my role evolved from loyal customer to a brand ambassador, advisor, and a trusted partner. This collocation is a testament to our shared vision and aspirations, and we're elated to showcase this phenomenal collection to the design community and beyond."
As the visionary behind Dwell by Cheryl, Cheryl showcases an adeptness in curating both intimate havens and opulent spaces. This dexterity shines in the Revolution collection, harmoniously blending function with aesthetic appeal with an array of patterns spanning classic styles, cultural inspirations, and bold animal patterns infused with vivid hues and graphics.
"We are beyond excited to share the story of our journey – and friendship – with Cheryl," said Anderson Gibbons, Chief Marketing Officer of Revolution Fabrics. "Cheryl's design ethos perfectly aligns with the pioneering spirit of Revolution Fabrics. This collaboration not only introduces stunning designs but also embodies our shared commitment to uplift and enlighten the textile industry."
The exclusive collection will debut this Fall at High Point Market, with celebrations commencing at the Cheryl Luckett x Revolution Fabrics launch party. Join us on Friday, October 13 from 4-8PM within the Brentwood Textiles Showroom at 312 South Hamilton Street 3rd Floor Suite 301 High Point, NC 27260. Additionally, unlike Cheryl's previous licensed collections, Cheryl Luckett for Revolution Performance Fabrics will be accessible to the public directly through the manufacturer's website, revolutionfabrics.com. For further information, kindly contact the media representative provided below.
About Revolution Fabrics
Revolution Performance Fabrics is a multi-generational family owned textile company specializing in producing high quality, sustainable performance upholstery fabric. Founded in 1964, Revolution prides itself on engineering durable, stain resistant, PFAS chemical-free fabric made 100% in the USA.
To learn more, visit: revolutionfabrics.com.
About Dwell by Cheryl
Founded by the talented Cheryl Luckett, Dwell By Cheryl is an award-winning interior design firm serving the Charlotte, NC area and beyond. Renowned for her unique ability to merge classic style, vibrant palettes, and culture, Cheryl infuses each project with a signature charm that's unmistakably her own. Her excellence in the field is underscored by notable accolades, including being a ten-time recipient of the Best of Houzz Award for Design and Customer Satisfaction, recognition as one of the African American Top 20 Designers by Black Interior Designers Inc., and being named among Charlotte's Best Interior Designers by Charlotte Axios Charlotte. For more information, please visit dwellbycheryl.com.