OWIU Goods sells experiences not products

When architect and designer Amanda Gunawan gifted all of her employees pottery studio memberships, her intention was not to initiate another business venture but rather to bolster morale during the pandemic. The pottery studio offered a soothing consistency during a period marked by tumultuous uncertainty. As it happened, Gunawan employed a lot of of gifted artists, leading to the birth of a fully-fledged, employee-owned ceramics line: OWIU Goods. The ceramics are characterized by their handcrafted nature, superior quality, authenticity, creativity, and charm – all highly commendable attributes. However, Gunawan knows that having a great product merely grants entry into the competitive arena; it is not enough to grow a business.
In addition to producing exceptional products, Gunawan has adopted a purposeful, tactful, and inventive approach to marketing. One notable strategy involves a collaboration with Culinary Curation, wherein she hosts tea omakase dinners at OWIU's downtown Los Angeles studio. Renowned tea sommelier and chef Tomoko Imade Dyen curates courses of tea and wagashi pairings, plated on OWIU goods. I was fortunate to attend the most recent event and in addition to being a beautiful evening, it was a masterclass in experiential marketing. (Reserve your spot to the next one here.) Read on to explore the key takeaways that brands in the lifestyle space would be wise to take note of to set themselves apart in the saturated marketplace: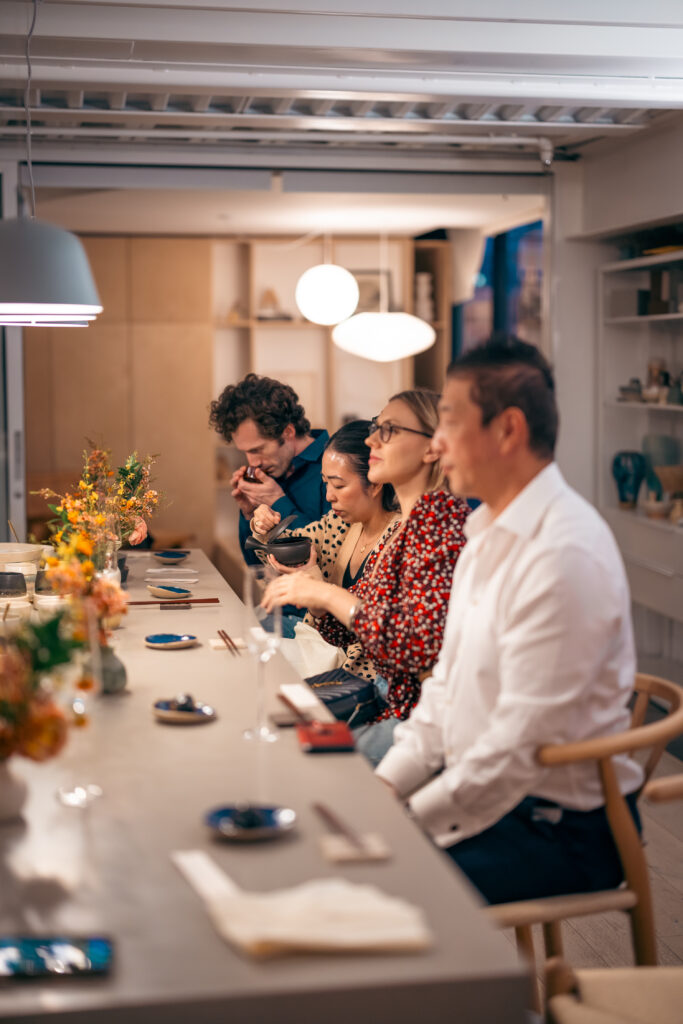 Tomoko's tea omakase experience
Buzzy marketing terms such as "storytelling" are frequently tossed around, but what does that look like in practise? Explore this specific case study: Tomoko Imade Dyen's tea omakase was detailed and intimate and elegant and while she is not a designer nor a potter, she became a "main character" that night in telling the "story" of OWIU Goods. Without characters helping tell the story and show how to use the products in new and interesting ways, you can limit growth and miss out on reaching potential consumers. Sometimes finding those characters is obvious. In this case, Tomoko is an expert in elevated culinary experiences, helping to market to those who appreciate them too and can use OWIU Goods to enhance their own everyday culinary experiences. If it is less obvious who can be your brand's "characters," expand your understanding of the customer. It can take you in some unexpected directions – like one of my recent favorite marketing campaigns: Panera Bread's Fashion Week takeover.
Value of unique lifestyle imagery
By now, most brands understand the value in quality lifestyle imagery, especially in retail. (Another smart decision was having renowned culinary and lifestyle photographer Stan Lee photograph the evening.) But every once in a while, I will come across a brand still using exclusively silo catalog imagery. There is a time and place for a product isolated on a white background, but the context provided by lifestyle imagery in our digital age cannot be underestimated. For retailers, it can be used to upsell customers on complementary products to the one a customer was initially considering. For a designer, it can be easier to educate clients on the differences in quality/price/color/scale with the context of a room scene, when compared to another similar product. Context can help avoid some of the common questions designers field like, "why is this one on Wayfair so much cheaper?" We are inundated by digital imagery and it becomes a lot easier for the untrained (or tired) eye to understand products when they are placed in context as opposed to when they are isolated on sterile white backdrops.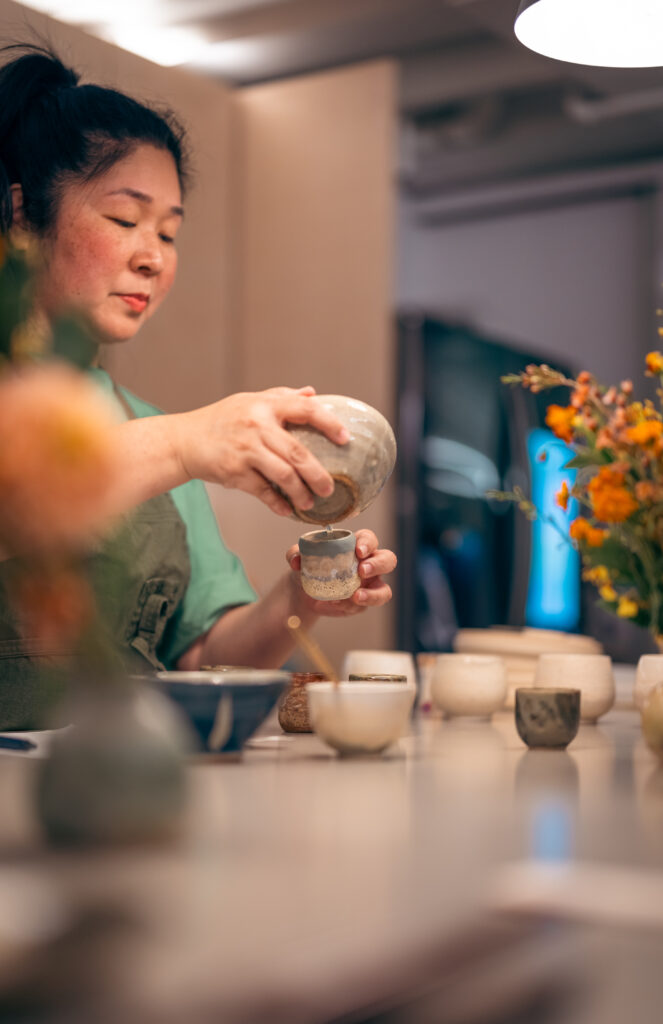 The guest list + user-generated content
Related to the point above: If your company is throwing a cocktail party or dinner, be thoughtful and creative about the ways the event can serve as a natural extension of the brand. Does your event live beyond its allotted couple hours with user/guest generated content? Among the other guests the night I was in attendance were the founders of WeLikeLA who are sharing Tomoko's tea omakase experience with their audience who appreciates cultural events and great food. I am sharing with mine who appreciates good design and good business.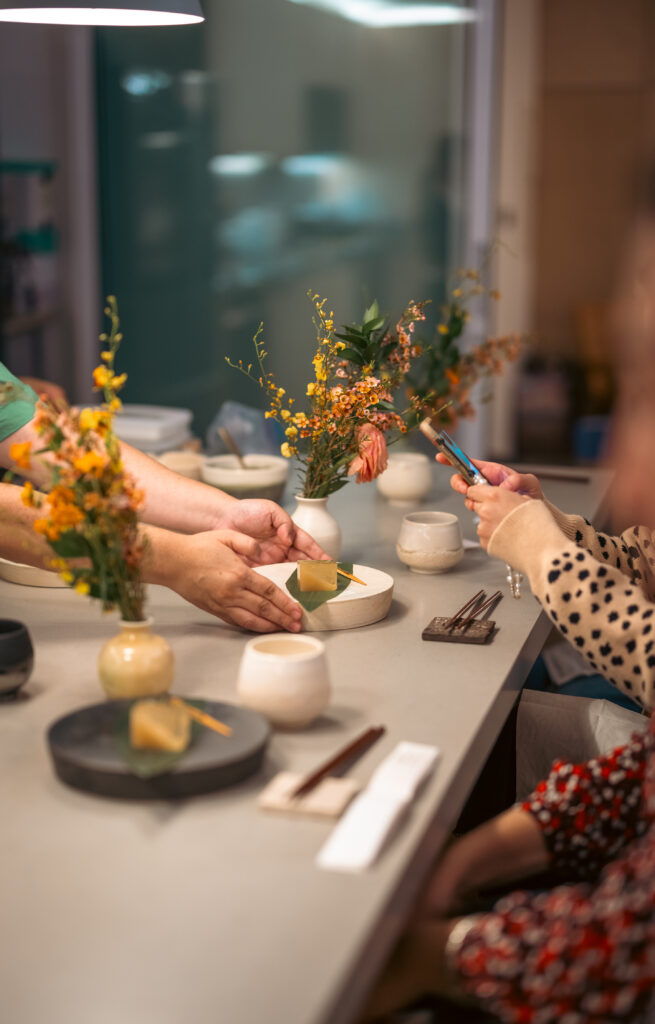 Marketing collateral with a life of its own
Each guest took home a branded tote bag of goodies, complete with a piece of OWIU pottery and hat. The hat and tote could exist as products you'd want to buy on their own. One could easily imagine either for sale at a store like Jennie Kayne or from a brand like Sporty & Rich. That is to say, they are not your typical corporate swag with the logo printed on a stiff T shirt or pen you'd bring home from a trade show. (If you are giving away a 'sleep shirt' you are doing it wrong). I wore the hat out to a museum and brunch the following day. Receiving multiple compliments, it was a natural conversation starter with strangers. "Thank you," I said, "it's from a ceramics company based here in LA. They have a great story…" The pitch that followed came naturally.