KOHLER and ANN SACKS Partner with Acclaimed Designer Shea McGee on New Product Collections

The KOHLER x Studio McGee Collection features kitchen and bath faucets, accessories, vanities, lighting, and mirrors, while the ANN SACKS x Studio McGee collaboration launches with three tile collections
KOHLER, Wis. — Kohler Co., celebrating 150 years of innovation, quality, and craftsmanship, builds on its legacy of design leadership through an exciting new collaboration with Shea McGee and her firm, Studio McGee.
The KOHLER x Studio McGee Collection blends classic and modern design influences providing timeless expressions for the home. The new collection is available for purchase exclusively in Kohler Signature Stores and Kohler Experience Centers beginning Sept. 29 and on Kohler.com beginning Oct. 2. Explore now at kohler.com/StudioMcgee.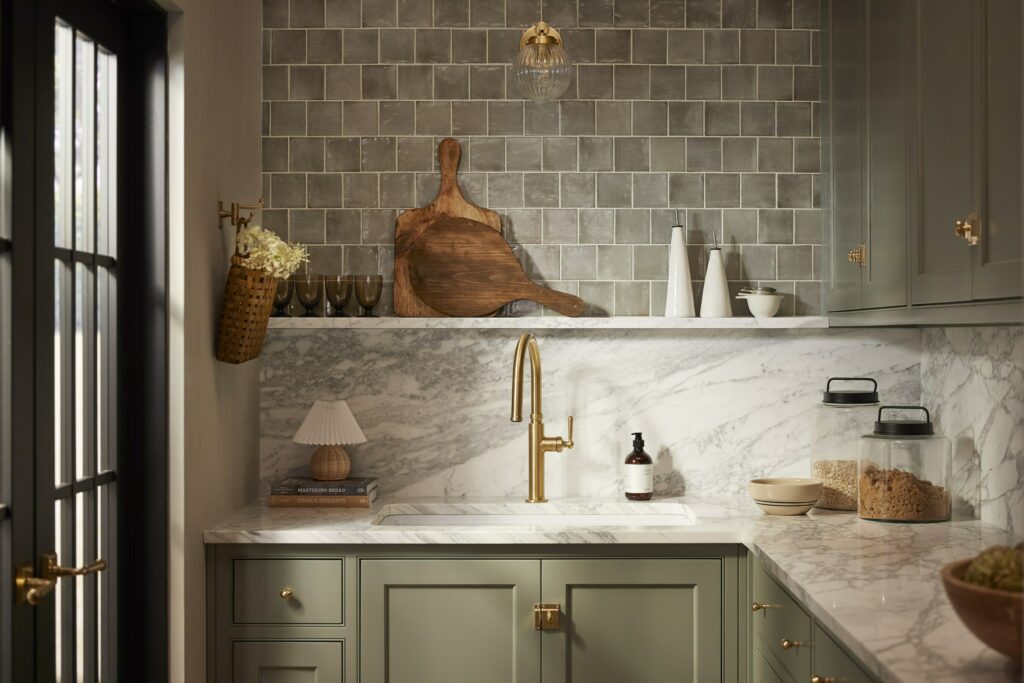 The ANN SACKS x Studio McGee Collection features two finely executed porcelain designs and an intricate stone mosaic, each incorporating McGee's distinctive style that speaks to a range of tastes and lifestyles. The new luxury tiles are available through Ann Sacks Showrooms, AnnSacks.com, Kohler Signature Stores, and Kohler Experience Centers on Sept. 21. For inspiration and information, visit annsacks.com/inspiration/studio-mcgee.
"I've always been a fan of the quality and craftsmanship that Kohler adheres to. You can tell that it's a fixture that will stand the test of time," says Shea McGee. "For my own collection, I went deep into the Kohler archives to find some of the historical details and styling that make a fixture timeless. From there, I gave them modern updates for a mix that's uniquely Studio McGee."
Known for her signature aesthetic that she shares with millions of design enthusiast fans, whether it be through her popular social media channels, starring on Netflix's "Dream Home Makeover," her newly released Sessions by MasterClass, or her books—the New York Times best-selling "Make Life Beautiful" and highly anticipated upcoming title "The Art of Home," Shea has been using Kohler products since Studio McGee's inception and more recently in her own home.
"Working with Shea is an exciting endeavor that combines her highly coveted style with the expertise and craftmanship that's synonymous with Kohler," says Samie Barr, Chief Brand Officer at Kohler. "Shea's collections with KOHLER and ANN SACKS pair seamlessly for customers who aspire to explore new possibilities and create their own unique spaces throughout the home."
The KOHLER x Studio McGee Collection includes six distinct product lines:
Edalyn™ Kitchen Faucets
Transitional by design, each faucet is characterized by a distinguished, high-profile spout that is complemented by stacked detailing and clean lines. Beyond a striking appearance, the Edalyn kitchen faucets embrace practicality, providing a range of spray types that cater to diverse needs by offering a semi-professional faucet, bar and kitchen faucet, bridge faucet, and pot filler. The side spray coordinating with the bridge boasts metal construction for durability, while the pull-down and semi-professional configurations feature the spray settings and functional technologies that are synonymous with KOHLER kitchen faucets.
Castia™ Bathroom Faucets and Accessories
Crafted with meticulous attention to detail, the faucets showcase the artistry of precision machine knurling, delicately stamped levers, and stacked connection points in a subtle homage to the raw beauty of pipe fittings. The versatile line consists of sink faucets, bath fillers, shower valves and trims, showerhead, handshower, and coordinating bathroom accessories. Castia features multiple flow rate options to accommodate customers across national markets.
Malin™ Vanities
With distinctive square legs and clean lines, Malin vanities represent an undeniable Shaker sensibility. Integrated reeding detail, delicate door framing, and classic mushroom knobs—three details found throughout furniture design history—add a captivating combination of layers for a uniquely versatile and timeless design. The vanities include quartz tops and rectangular undermount sinks, offered in both single- and double-bowl formats depending on size, which range from 24″ – 72″. Finish options include a Studio McGee White Oak wood finish, as well as a classic White painted finish.
Seagrove™ Vanities
Imbued with midcentury modern style, the vanity design features tapered legs adorned with beveled edges and gracefully curved transitions. The inclusion of dimensional details, like drop ring pulls embellished with exposed slotted screws, create a striking balance, infusing the overall space with an enduring quality. The Seagrove vanity is offered in single- or double-bowl formats in a variety of size offerings. Finish options include Ferrous Grey (dark painted grey) and Light Clay (neutral color hue).
Embra™ Lighting
Refined reeding on the glass spheres is effortlessly balanced with exposed screw details, evoking a captivating juxtaposition of glamour and industrial chic. With an adjustable chain and an array of finish offerings, Embra ensures a tailored and coordinated aesthetic.
Kernen™ Lighting
Textured coining details and elegant milk glass infuses an updated vintage charm into the design. Meticulous in every aspect, Kernen's scale has been thoughtfully enhanced, striking a balance between boldly impactful and practically functional for a beautiful proportion.
The ANN SACKS x Studio McGee Collections can be specified for wall or flooring installations.
Canyon Lake by Studio McGee
The dry pressed glazed porcelain tiles feature an undulating surface that captures and reflects light. Canyon Lake is available in both field and trim formats with rich color offerings that include Antique White, Stone, Sea Salt, Mist, Midnight and Dusty Rose.
Novah by Studio McGee
A versatile porcelain tile that provides the appearance of limestone, Novah is offered in four sizes which can be mixed and used alone, or together in an array of combinations. Available in Salt, Sand, and Glacier, Novah can be set up in a checkerboard layout with the selection of two colors.
Willow Heights by Studio McGee
This timeless stone mosaic was inspired by parquet flooring. The sheeted mosaic is available in two 12″x12″ patterns – Brynn and Rylee – and is offered in Calacatta, Calacatta and Britannia, and Calacatta and Bardiglio.
Additional information and images available here.
About Kohler Co.
For 150 years, Kohler Co. has been a global leader in design and innovation, dedicated to providing gracious living through kitchen and bath products; luxury cabinetry, tile and lighting; distributed energy solutions – home energy, industrial power systems, and powertrain technologies – and luxury hospitality experiences and major championship golf. Kohler's Whistling Straits golf course hosted the 43rd Ryder Cup in 2021. Privately held Kohler Co. was founded in 1873 and is headquartered in Kohler, Wisconsin. The company also develops solutions to address pressing issues, such as clean water and sanitation, for underserved communities around the world to enhance the quality of life for current and future generations.
KOHLER Kitchen & Bath, Energy, Golf + Resort Destinations
About ANN SACKS Tile & Stone, Inc.
As a proud member of the KOHLER® family of brands, ANN SACKS® offers a curated compilation of exceptional quality hard surfaces for commercial and residential installations. Since ANN SACKS' inception in 1981, product experts have traveled the world, developing a tile and stone portfolio of remarkable depth to appeal to myriad lifestyles.
With its network of 19 ANN SACKS showrooms across North America supported by an experienced team of dedicated sales associates, ANN SACKS offers an acquired body of collective works. From the MADE by ANN SACKS in-house bespoke designs to its global representation of exquisite and unique collections, many exclusive to the brand, ANN SACKS brings whole home solutions to create livable spaces of elegance and sophistication.
About Studio McGee
Studio McGee is an interior design brand created in 2014 by husband-and-wife team, Syd and Shea McGee. Studio McGee's journey started on social media, quickly garnering the attention of a design-loving community through a steady stream of inspirational projects and consistent design tips.
With a loyal social following, the design business experienced rapid growth, paving the way for the launch of their e-commerce brand, McGee & Co., along with a lineup of licensing partnerships and marketing opportunities that amplified Studio McGee's design voice—a New York Times best-selling autobiography, "Make Life Beautiful," a forthcoming coffee table book, "The Art of Home," a product line with Target, a series on Masterclass, and a long-running show on Netflix, "Dream Home Makeover." Today, Studio McGee continues to be creatively led by co-founder and chief creative officer, Shea McGee, and is regarded as one of the leading innovators in the interior design industry with a 'sophisticated but not stuffy' approach, while maintaining a consistent focus on empowering others to "Make Life Beautiful" by enhancing their daily lives through good design.