A conversation with Four Hands' VP of design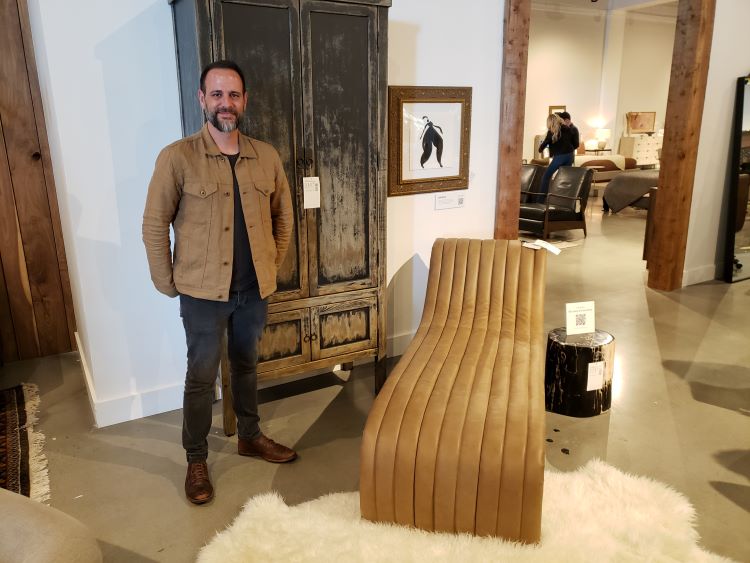 Adam Dunn, vice president of design for Four Hands, is thrilled by a painting of a lobster he bought on a recent trip to Europe. It's not part of the Four Hands line, but it represents what he and the Four Hands team are trying to create with the company's expanding home furnishing lines.
"I want people to buy what they love," he said during the recent High Point Market. "I just bought this crazy painting of a lobster when we were in Paris. I love it. It's crazy and weird but it's going to mix perfectly with all the other stuff in my house because I really love it."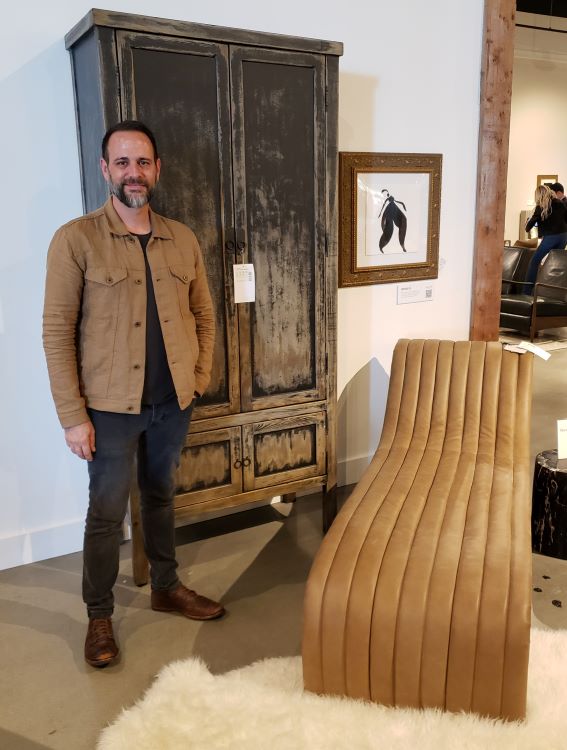 Four Hands, he said, is working to offer interior designers and retailers — large and small; e-commerce and brick-and-mortar — a broad, mixable range of products that will reflect consumers' personal aesthetics and give them the same feeling of excitement when they buy a Four Hands piece. (More later on a few Four Hands items Dunn loves.)
"We want to make choices really easy (for consumers)," Dunn said. "… I never want to make a piece of furniture that you're going to regret purchasing a year later. So, we always want to be on trend and make sure we're bringing out the best styles, but translating them in a way where they have longevity."
"As a furniture designer, that's what we do: We help translate and predict how people are going to be living and give them what they'll want," he added. This year, that has meant helping to create homes people can furnish with pieces meaningful to them and then share with friends and family who gather there.
Home as gathering place
The ideas of gathering and the home as a space for entertaining come through the Four Hands line in a range of ways. Over the summer, the company introduced its first dinnerware collection, as well as a group of luxury games and game tables that were prominently displayed in the company's Showplace showroom in October.
"I think what people value is changing," Dunn said. "People want connection. They want to gather. It's all about caring for themselves, caring for others and valuing each other. We're looking at how we can re-create the home for that — things like flexible seating solutions because we know people are going to be entertaining a whole lot more. We launched the luxury games because people want to entertain at home."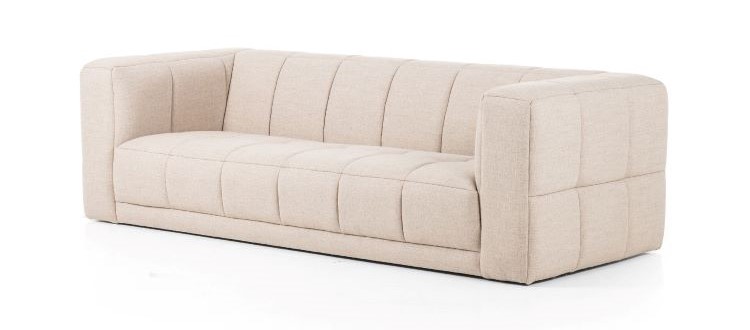 During the recent High Point Market, the Austin, Texas-based company highlighted a collection of Fiqa upholstery, with fabrics ideal for consumers who want to use and enjoy their furniture without worry. The fabrics are UV resistant, water repellant, cleanable (even with bleach), pet friendly, anti-fungal and free of PFAS. Dunn likes that Fiqa is more sustainable than some other options, too. The fabrics in the Fiqa line are made with fully recyclable materials and use water-free solution dyeing process that the supplying mill says creates longer lasting, fade-resistant color. "The question was, how do we get the properties of a (typical) performance fabric in a healthier way? Healthy textiles are going to be a huge conversation in the coming years," Dunn said.
"Collected" collections
Across its lines of furniture, lighting, rugs, wall decor and other accessories, Four Hands is mixing design eras and movements with the idea of creating, not a mishmash of styles, but purposeful, thoughtful collections that feel truly "collected."
"Right now, we're doing a lot of Brazilian midcentury-inspired shapes that have a lot of really big inflation — almost cartoonish lines — and mixing that with European-style antiques, Chinese-style antiques to give the feeling: 'This home is put together. It's been thoughtfully made over time.'"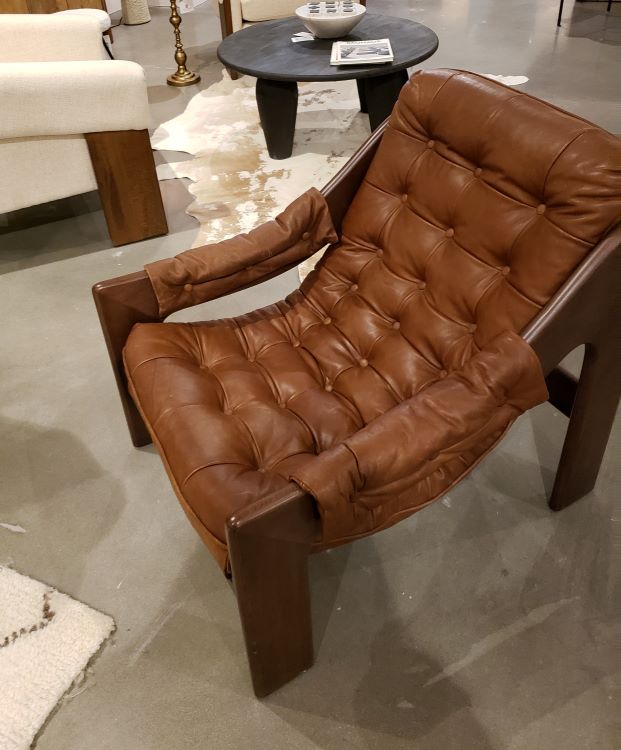 A prime example of the Brazilian-inspired design is the sleek, slouchy Halston chair, with fold-over upholstery on the arms. It's one of Dunn's favorites. "It's meant to be really relaxed and really, really comfortable," he said. "This is a great interpretation for us." So great that it has inspired Four Hands to launch case goods and bedroom collections that share the same design language.
Another Dunn favorite: The statuesque McGregor bookcase, with five upper display shelves and two lower drawers. "It took us a really long time to develop this finish, and it feels like an old Italian finish, which I love," Dunn said. "We wanted it to feel authentic."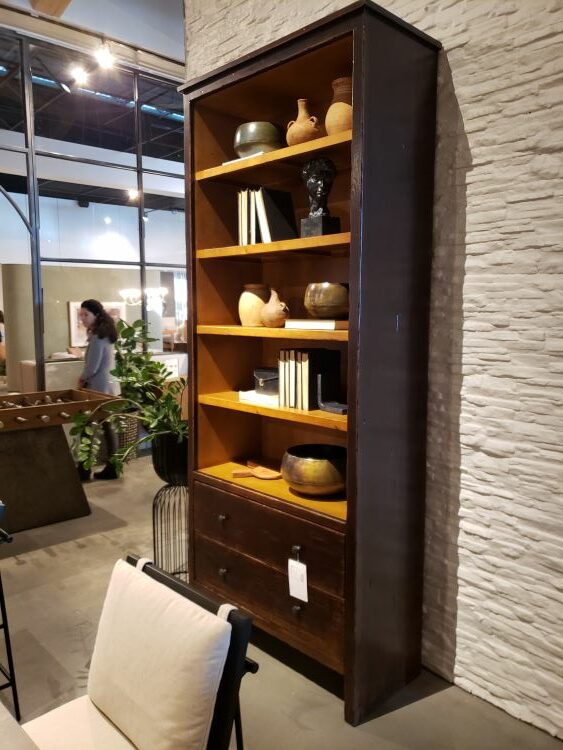 During a showroom visit by Decor News Now, Dunn pointed to a vignette that, he said, "tells the whole story of where the brand is going from the design aesthetic."
"It's really about the mix of design areas and different movements," he said, pointing to a distressed cabinet inspired by a Chinese antique with a seven-step finish the company took a year to develop. "So, it's very thoughtful," he explained. "I think the cabinet is gorgeous and so authentic."
The cabinet was teamed with a postmodern channeled chaise in a putty-colored leather, a shearling rug and antique-framed art. "It's just a really cool moment," Dunn said.
What's ahead for Four Hands?
A couple of years ago, Dunn and Matthew Briggs, the company's president and chief executive officer, talked about new categories the company could expand into, Dunn said.
"I took a pencil and paper and I walked around my house and looked at everything, down to light socket covers, that you could purchase for the home," he said. "I came up with a list of about 500 different category types we could go into." They winnowed the list and started product development. The dinnerware and luxury games were the first among the categories to emerge from that exercise.
Next up: a line of vanities and other items for the bathroom. That line is still in the sketch stage but Dunn expects the first pieces to launch in 2024. "We will establish (the line) as being in the high-better to best price range, using specialty materials," he said. "Bath is still one of the fastest-growing categories because everyone is still renovating. We're very excited."
The bath line, in keeping "with the Four Hands look," will have collections under each of the company's three overall design families — Nomad, New Forma and Heritage — and will be offered in multiple colorways, Dunn said. "We've identified some of our current bestselling case goods and are drawing into those now," he added. "We know those shapes have really wide appeal."
Four Hands also is planning a line of large-scale permanent botanicals (i.e., faux plants).
"Plants are important in design, but a lot of people aren't good at caring for them," Dunn said, acknowledging that he happens to be one of those people. But, as with other product launches, Dunn and his team know the details he wants to see in the that line and the company is scouting manufacturing partners that can produce the plants to Four Hands' specifications.
The plants won't grow, but Dunn promises Four Hands' offerings will.