The new Itihāas Company offers pillows, throws with a rich history

With a passion for history and the stories that objects can tell, Devika Kanadé has launched The Itihāas Company, with an initial line of luxurious, richly patterned pillows and throws.
The company brings together Kanadé's love of design, from fashion to home. She's well-educated in fashion, with a degree in art and design from Nottingham Trent University, a bachelor's degree in fashion styling from the University of Arts London and a master's degree in the history of costume from New York University. But interior design has been a passion, too, from the time she started repainting and redecorating her bedroom as a young girl.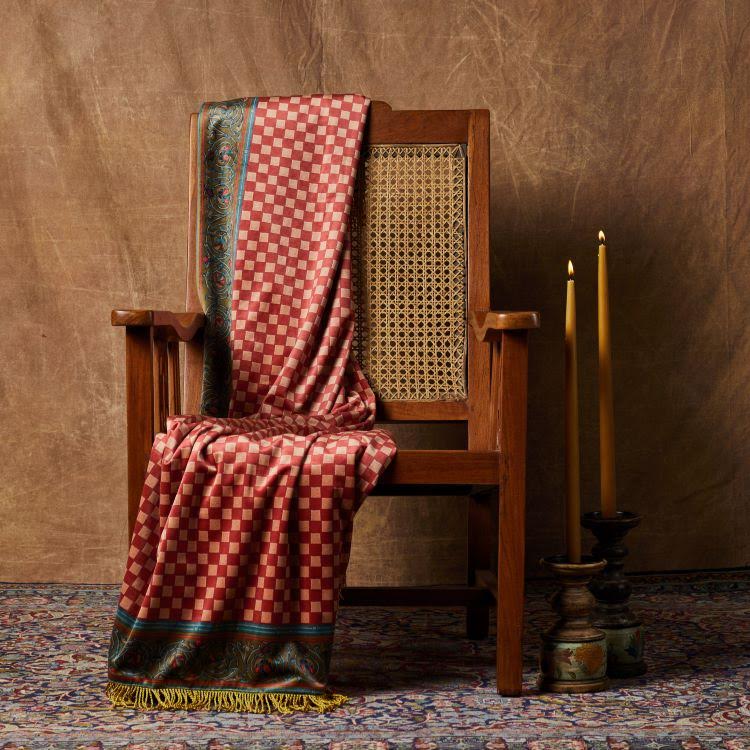 As Kanadé moved around for her education, "I've sometimes felt lonely in new spaces so I would try to make them feel homey," she explains. "I started decorating, going to thrift stores and flea markets, and I just found it was really interesting to me. So, this company is a good balance for me of my love of textiles and set design and creative direction."
Many of the line's initial pillow designs are based on a portfolio of English architect and designer Owen Jones' prints from the mid-1800s that Kanadé and her mother found while antiquing several years ago. "We thought, 'We'll frame some of them and put them up because they are so beautiful,'" she says.
The images of the prints stayed with her, and when she began envisioning her first product line around 2019, it felt natural to use those prints as the foundation of her initial pillow collection. "Putting them up in our house was great, but I wanted to share them with people," she says.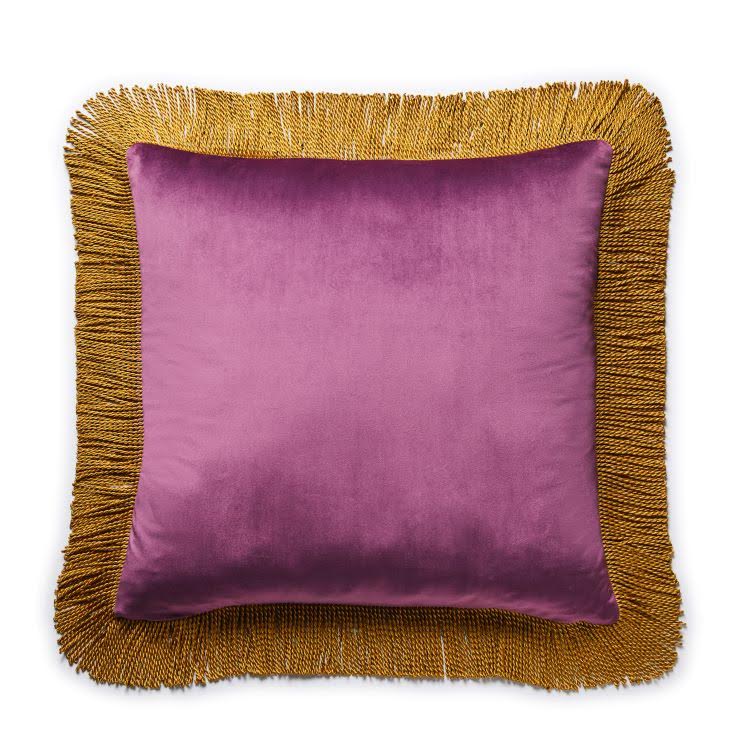 Kanadé gave the prints a new twist by pairing them with luxurious velvets trimmed in cotton piping or thick fringe. Pillows retail from $90-$95. Pillow inserts are made with kapok cotton filling, grown and harvested using traditional methods in India. "People don't use this cotton as much anymore because it's expensive, but it will last a lifetime and it makes the pieces feel like they are something that's been passed down. And I want them to last so that you can pass them down. I hope my cushions — or any products I create — have a life beyond a generation."
The company's colorful fringed, velvet throws are substantial — "they're heavy; they're warm," Kanadé says — and can be used as blankets, decorative throws or wall hangings. "People really love the throws," she says.
With her love of history, Kanadé includes product descriptions on the e-commerce site that go far beyond colorways and materials to include the history of the prints and the artists and artistic periods that inspired them, from the 19th-century illustrations by Jones to Byzantine mosaics.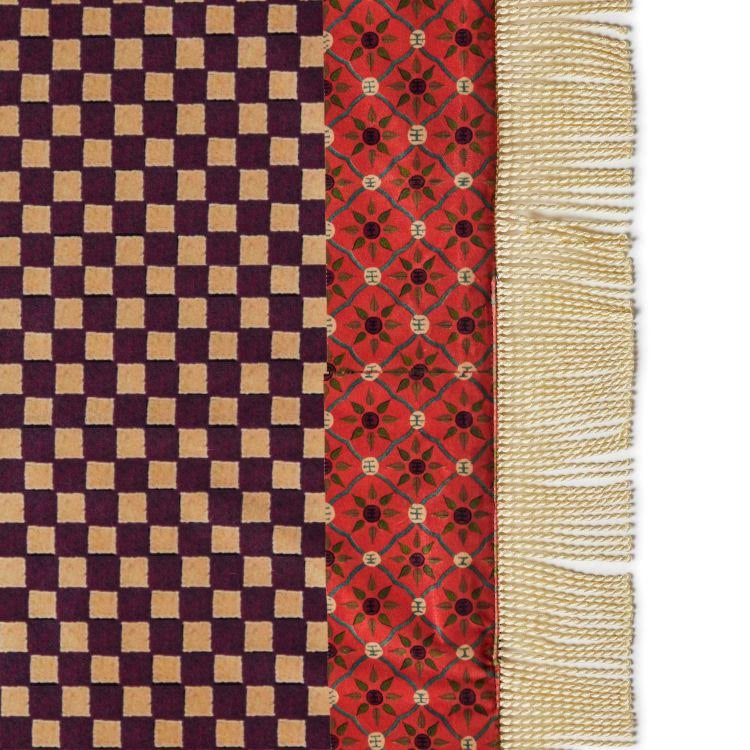 "I genuinely feel like when people were only making things by hand, that's when things were uniquely being created for the first time. Today, I think everything we see has been inspired by something from the past — art, architecture, nature. And I love that. I want to share the history," she says. "I love telling people where the designs come from and proudly tell people their provenance. I want to be a custodian, passing the designs along for others to enjoy."
Kanadé defines her own style as "antiquated maximalism" and her initial line certainly fits that vibe, but she believes her products can fit well in interior designs beyond the maximalist aesthetic. For instance, they can work in a traditional home or add a sense of place and pop of color to spare, minimalist designs, she says.
Her next collection, still in the works, is inspired by Egyptian prints and patterns and lighter fabrics.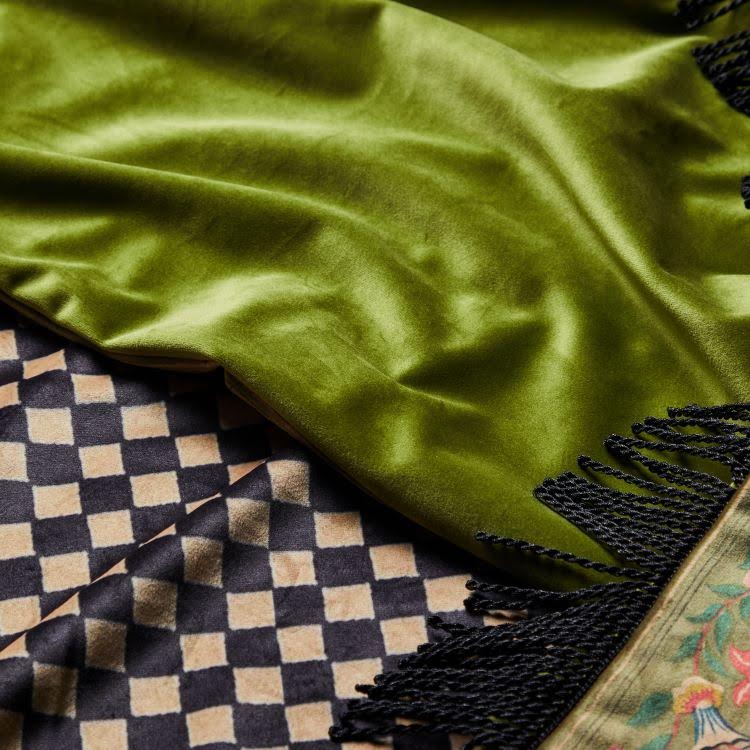 Multiculture, sustainable ethos
Kanadé started designing and finding manufacturing partners for The Itihāas Company in 2019 and launched her e-commerce website in December 2022.
She travels back and forth between New York City and Mumbai, India, where she was born and raised. Her work is influenced by both countries, as well as the United Kingdom, where she went to school. During an upcoming trip to India, she plans to explore more opportunities with artisans and manufacturers there.
"My parents never really cared for Bollywood as much, so I grew up with more European and American movies and TV shows and music. … And then I went to school in the U.K. and U.S., so I got invested in the European-American aesthetic, but I grew up in India, and I want to explore the techniques and beautiful textiles of India, too," she says.
Like a growing number of home furnishings sources, The Itihāas Company is striving to produce and ship its products in an ethical, sustainable way. "I realize it may be the smallest way, but I want my brand to stand for something," Kanadé says, explaining that includes taking steps from reducing production waste to packaging products in biodegradable and fabric bags instead of plastic. "My hope is that our audience will use these (fabric) bags for a long time, in whatever capacity, to reduce, and more importantly, replace single-use plastic bags."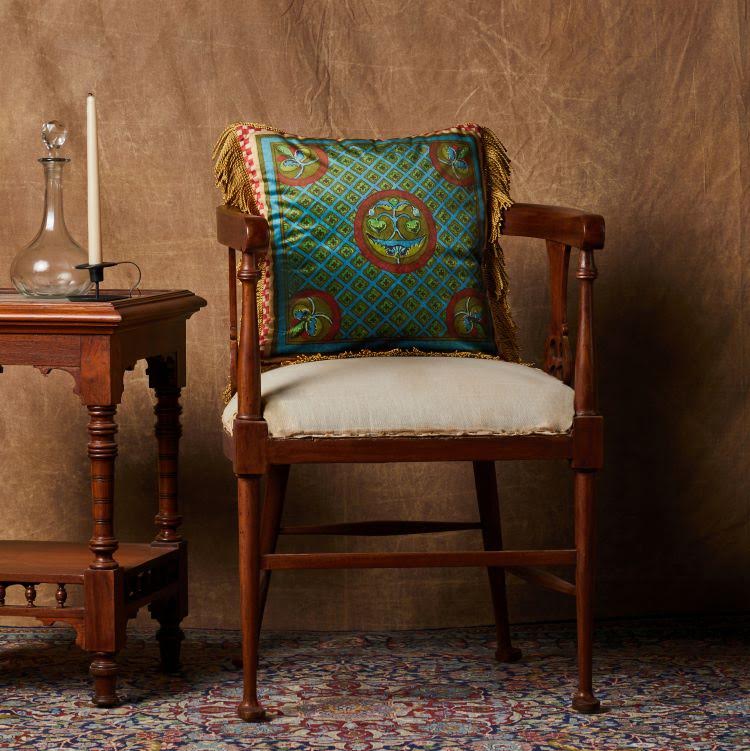 The importance of objects
Kanadé would like to expand into categories including lamp shades and wall coverings, as well as add one-of-a-kind art and antiques to her online store.
"I don't consider objects just to be a part of my life, I consider myself to be a part of their lives, too," she says. "I love flea markets and antique markets and bringing something into my home that someone else owned previously. I think we're just custodians, taking care of the object and then passing it along, after we've added a bit of our life to it."
While Kanadé hopes to grow The Itihāas Company, she wants to maintain the handmade, small-batch ethos on which it was founded.
"I don't want anything that feels mass produced," she says. "I know that's probably being a little idealistic in today's day and age and it's more expensive to do it this way, but I'd like to keep a small, boutique feel."